Culture isn't something you can put in a box, or mark up on a spreadsheet easily. But without a good culture, you and your team know something is seriously wrong, even if you can't put a finger on it.
But forward-thinking, digital businesses have it made as standard, right? Twitter employees get free meals, yoga classes and unlimited vacations. Google offers free haircuts, nap pods and on-site physicians.
So is it a case of getting some cool work perks and Bob's your uncle?
Unfortunately no. At NeoMam we've learnt about good company culture by creating a bad one.
Our bad culture meant conflicts weren't getting resolved, people left, cliques formed and the team was unable to speak freely.
It got really bad.
So bad that there were days when I didn't want to come into the office.
And it wasn't just me: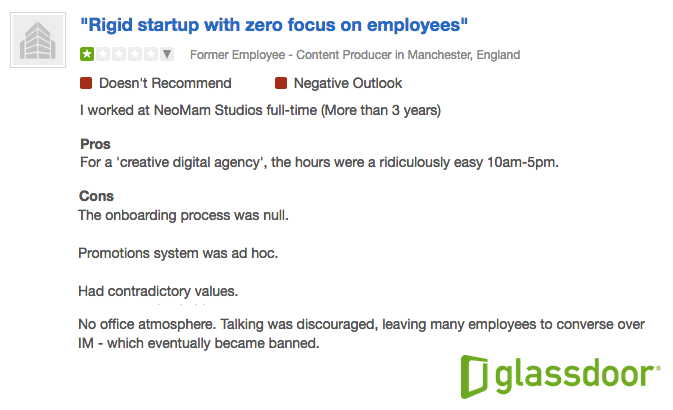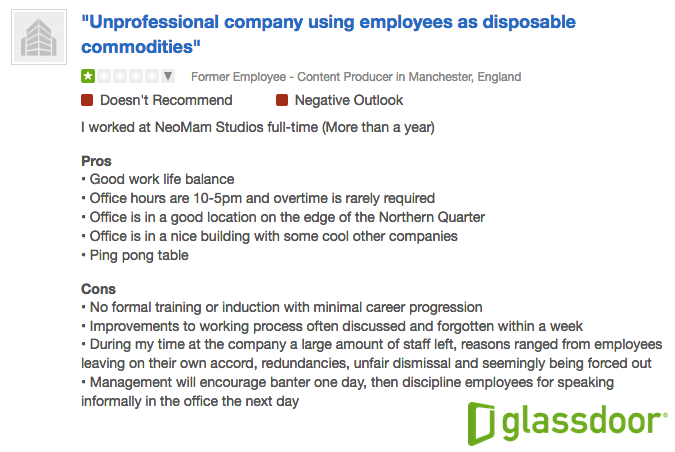 But despite the tough times, we've tackled the issues head on, and I can honestly say that work is now a fun place; we have a great team, do amazing work and have a great plan for the future.
What Went Wrong, And How Did We Fix It?

Culture is about people, and how you work together.
When we first set out on our path to business, our main focus was finding someone who could do the technical aspect of the job really well. This would often be a freelancer we had worked with, or someone coming for a short internship.
Although often skilled in the job, there were times when our hires didn't fit the other aspects of our business.
We focused on training people up and develop their work skills but we forgot about planting the seed of our company values and mission.
We hired creative types and wanted them to focus on consistent results. We chose people who preferred to get their head down rather than collaborate as part of a team. We brought in individuals who were seniors in their field but found it hard to learn from others.
We didn't realise at the time, but these qualities were the complete opposite of our core values.
How did we fix it?
By assessing every person in our company against our core values and skills we were able to align our team with those values.
We encouraged those who were a good fit to keep it up through reward and praise, and helped those who didn't to see how they could meet the mark.
We now use our core values in our hiring process to make sure we find the right people.

So, what exactly is a core focus and what are core values?
It's simply understanding why your business exists and what defines your people, and it is a powerful way to specify your culture in a nutshell. With that information at hand, you can hire, fire and reward based on those few values.
Every business has core values and a vision, whether or not they have defined it, and for a long time, we didn't.
This meant that most of our staff were on different pages; one person thought we were a design agency, another a creative studio, another a PR-focused service.
Without defining who we were, we couldn't work together on mutual goals. We hired the wrong people for the wrong roles. We created the perfect scenario for an US vs THEM mentality and we went to war at times.
How did we fix it?
We started by facing up to the fact we had a problem in our organisation and needed help.
We discovered the EOS process, which provided a framework for us to define who we are (core values), why we are here (core focus) and how we are going to get there (marketing plan and business strategy).
This helped us to stay on track towards the same goals and helps us to lead our team to where we want to be.

Teamwork is a massive part of the way we work and who we are as a company.
However, it's easy to say you work in a team when in reality you don't really collaborate with the colleagues around you every day or just attend the odd meeting.
For a long time, we worked as a 'working group'. We came in to the office, opened our emails and to do lists and cracked on with the day. We let each other know when our part was played and moved on to the next step.
This way of working made it difficult to discuss real problems.
We didn't have enough trust, understanding and effective communication skills to really get to the heart of issues, so they festered.
How did we fix it?
We started a weekly meeting where we identify and solve issues, and report on our KPIs and quarterly goals. We all work 'on' the business as a team, and find solutions together.
We started collaborating on projects, rather than being part a production line. Now, for every single project we all come together to select the ideas, decide on a content direction, review the design and discuss successes and failures once the campaign has finished.
We all bring our unique point of view and expertise to create the best work we can do.

For some companies, spending time together is culture step number one.
However, spending work and social time together doesn't create a culture without the right people, a trusted team and a mutual purpose.
In our case, we had a number of smaller cliques who would tend to group together; they shared the same values with each other, worked or sat closely to each other during the day and were similar personalities.
This was great for their own personal friendships, but it didn't form a company culture and isolated other team members or groups.
How did we fix it?
We worked through the hard stuff first; getting the right people in the business and defining our goals. We then revisited team social activities, and focused on activities that built trust, relationships and made people enjoy the place where they spend most of their time.
This included team members each bringing a new activities to the socials calendar – jiu jitsu, Dungeons & Dragons, hiking, mindfulness and foosball tournaments being some of them.
A big round of applause for our amazing Dungeon Master @MR_warehouse#DnD#DungeonsAndDragonspic.twitter.com/1o2QJhphd3

— NeoMam Studios (@neomammalian) May 27, 2016
We also make sure we enjoy our lunch together as regularly as possible, and we treat ourselves to a nice meal to celebrate big wins as a team.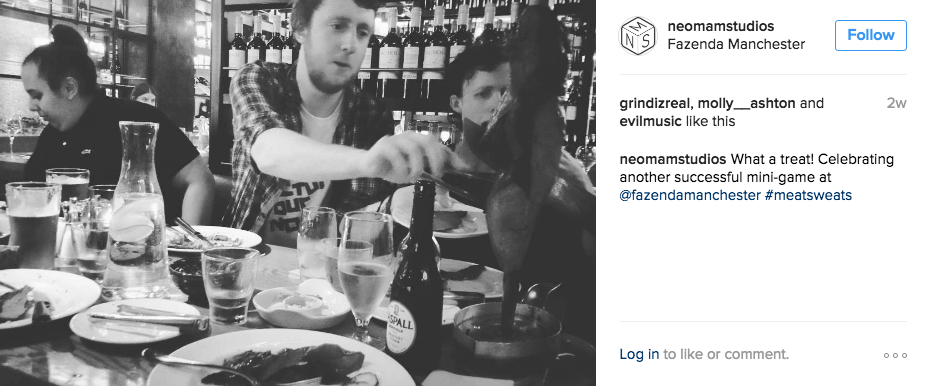 As a leader, it can feel like your responsibility to protect your team from bad news; it's not fair on them to expose them to problems and you should deal with them alone.
We started out on our journey with this mindset, and when our revenues dropped and our costs spiralled, the leaders spent hours out of the office trying to patch up the problems, out of the ears of the rest of the team. After all, we didn't want to affect their morale.
But eventually, we needed to share the problems and consequences with the team and we needed to let them know we were planning on making some restructures.
The wider team were completely in shock; they didn't see it coming.
People were worried, had lost trust and felt helpless.
By trying to protect them, we had actually made it worse.
How did we fix it?
We implemented an open book management system where we report on how the company is doing every single week. We report on revenue, costs, sales, operations and marketing.
Not only do we get to see the clear picture, we all get a say in what we could do if we're off track on our numbers. Sometimes it's about changing our sales tactic, others it's about adjusting our process.
With 8 minds working on the problem, leaders no longer need to have sleepless nights worrying about how they have to fix the issue alone, as there is a whole team working on it. And what's more, the team love it. They are empowered to make choices to make the business work for them.
So How Is The Culture Now?
In three words; it feels great.
It's a pleasure to come to work knowing that you're all here for the same goals, you trust the people around you and you're doing a great job as a team.
It doesn't stop there though…
Every day we need to continue to embed our core values and focus in every conversation we have, but it seems to be working.
And I'm not the only one who feels this way:

TL;DR
We failed at company culture;
We hired the wrong people

We didn't work as a team

We didn't know who we were as a business or what we set out to do

We didn't spend time together as a full team

We didn't have 100% transparency
We fixed it by:
Establishing core values and a core focus

Hiring based on core values as well as skill

Running weekly team meetings that set on solving issues

Spending time together as a full team, not a set of smaller teams

Opening the books so people could see the true picture and help us to get back on track
And the impact of a successful culture shows more and more every day; we get better results for our client and our team don't see work as just a job, but a part of their life where they can grow and have fun.
Does this sound like a team you'd like to be part of? We're hiring! Check out our current openings here.
Image Sources: Ada Be / Franz Diwischek / Thales