The 2020 global pandemic put an end to hero content (a.k.a. content that requires a big investment of time, expertise, effort and money to produce) for some teams, whilst opening the door wide to reactive PR as a link building strategy.
Since then, we have seen more and more debates online about the effectiveness of hero content campaigns, and we also noticed more tweets like these: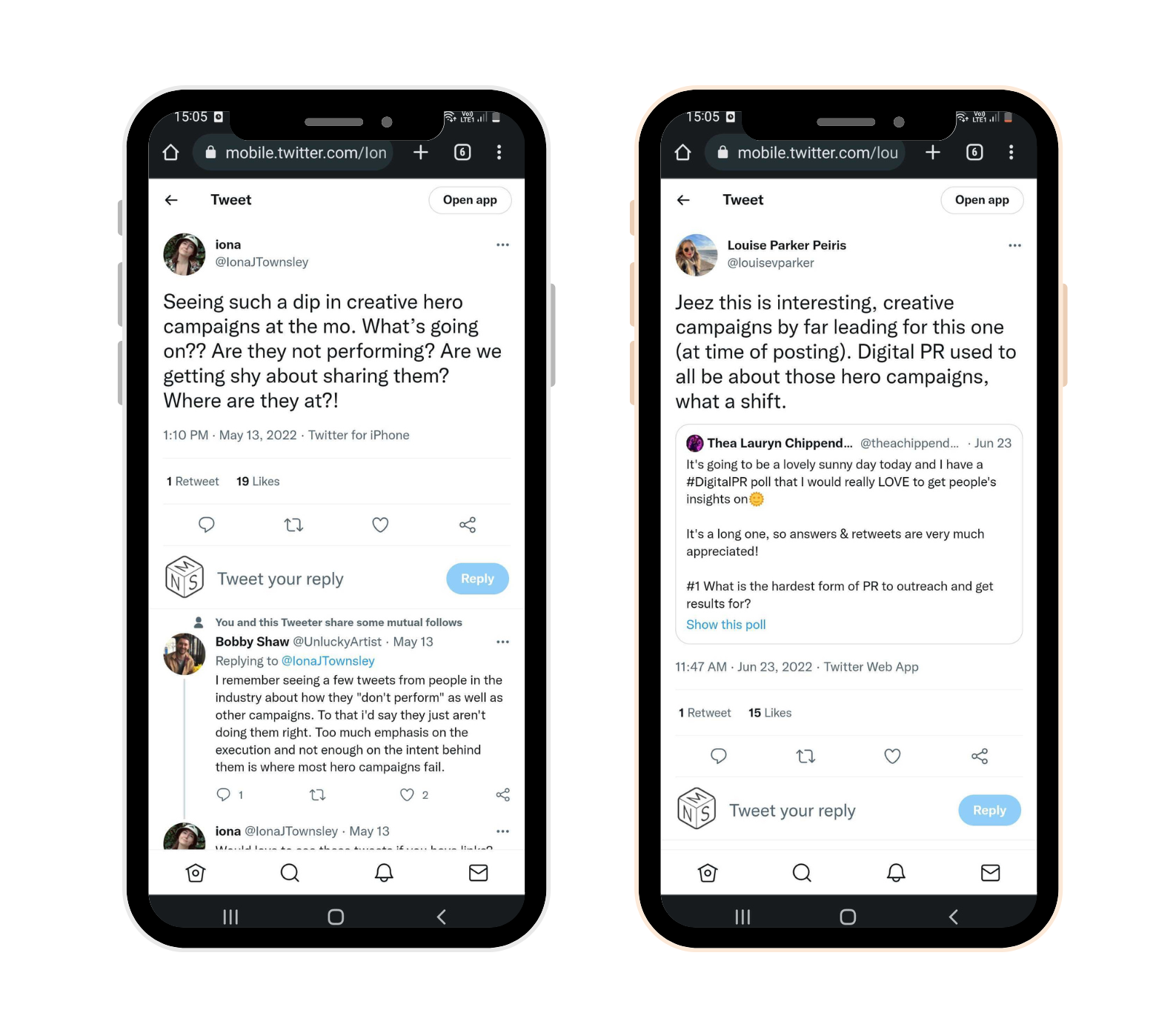 In the 10 years of running NeoMam, we have experienced the ebb and flow of link building tactics. But this time, it has gone beyond the tweets or the odd conference talk:
– Siege Media announced that they had stopped manual outreach to focus on keyword-driven content that will hopefully rank on its own and build links passively.
– Aira warned the industry not "sleepwalk into future updates" by continuing to glamourise "big, shiny, hero-style campaigns and the hundreds of links that they get". Instead, they propose the shift to customer-focused content that will hopefully rank with the help of some outreach and go on to build passive links afterwards.
This has led to long conversations about what these statements mean to NeoMam, especially considering this thing everyone is shunning happens to be the only thing we do.
So, we'd like to offer a different point of view for people out there who worry this might be the end of hero content for link building.
The Arguments Against Going Big With Content
Over the past few months, we've been told that:
hero content campaigns are mostly irrelevant to the brand and their customers
the news cycle has changed and it doesn't favour hero content
hero content campaigns don't earn links over time
email outreach is a waste of time
hero content campaigns don't rank for valuable keywords
Google doesn't want hero content for links
We think these are misguided generalisations, and we believe it's a matter of perspective tied to practice and intent.
Read on to find out what our experience has to say about each of those points.
How to Create Hero Content Campaigns Relevant to Your Site
The NeoMam team produces a set number of projects per month to ensure we are spending enough time at every stage, especially in idea generation.
The Creative team is dedicated to coming up with content ideas people will want to share based on a tight brief that tells them everything they need to know about a brand, including their no-nos, valuable keywords and focus areas as a business.
The brief gives Creatives a framework that constrains them in the right places:
1. What is the business about
2. What is the brand's mission and vision for the future
3. What is their SEO strategy
4. What topic areas align with business goals, brand vision and SEO strategy
5. What publishing verticals make sense for the site and their SEO strategy
6. What are the brand's no-nos
It is very difficult to go through all these points and still let through a concept that is irrelevant to the site.
Here are four examples of recent projects to show you how we channel relevance for different brands:
The Site: WordTips is a word generator that creates words from letters, helping users find high scoring words for Scrabble or solve word games like Wordle. WordTips' tools are widely used by fairly educated people who are interested in words and language, and who play word games on a regular basis.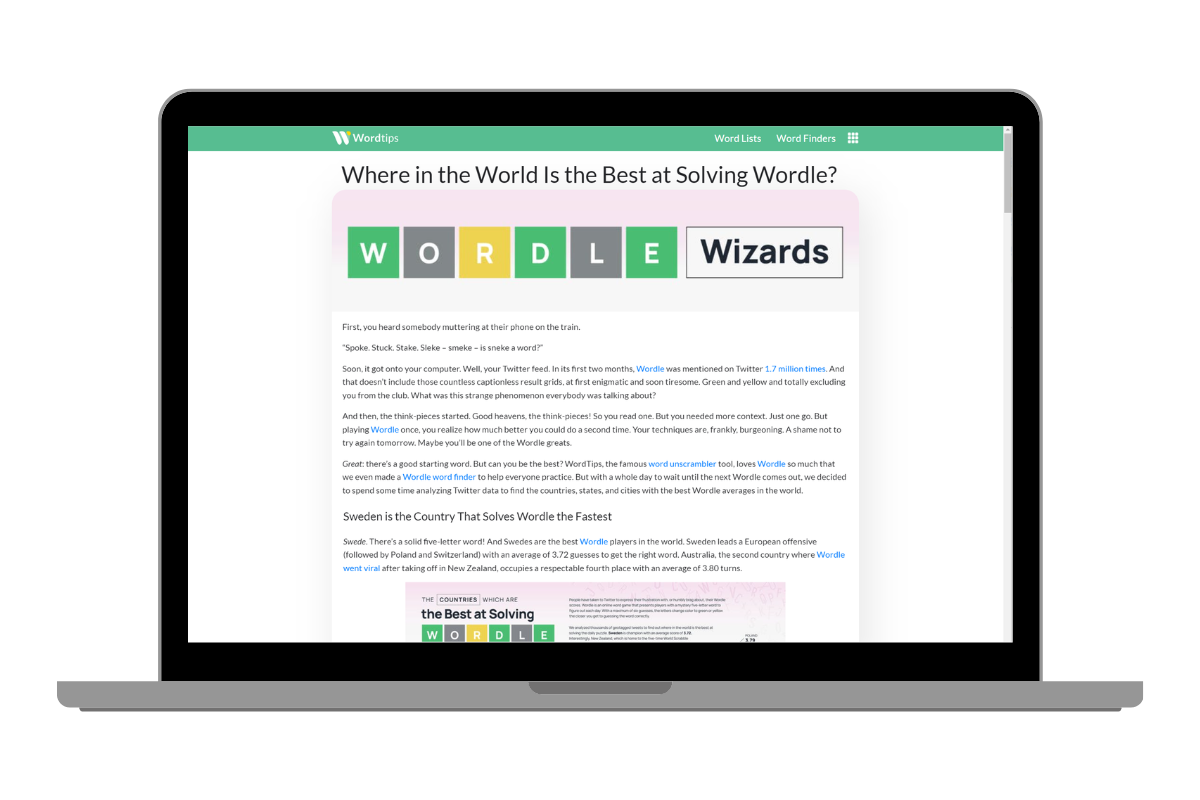 The Site: HouseFresh is a team of indoor air quality experts focused on helping consumers avoid air purifiers, dehumidifiers, and humidifiers that don't live up to the marketing hype. They are all about air quality and the little things that make a house feel fresh, that's why they produce a lot of content to help readers tackle indoor air quality issues such as cigarette smoke and traffic pollution.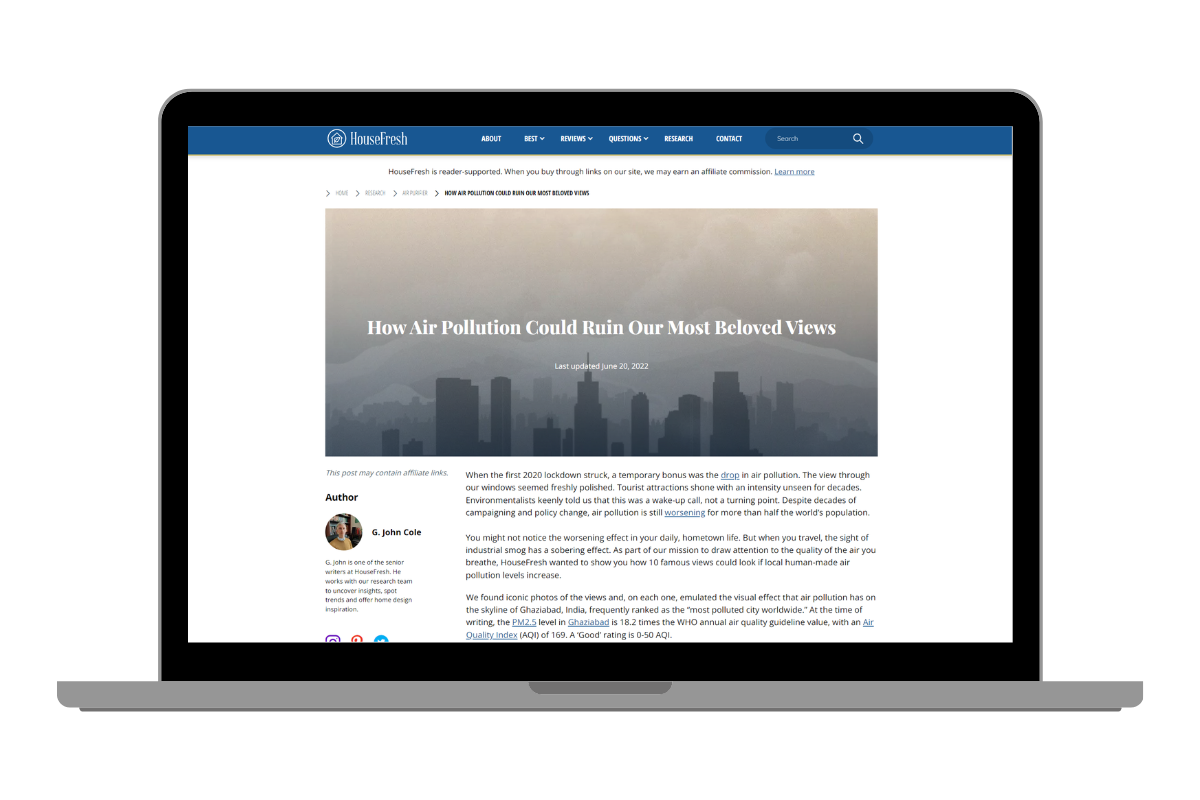 The Site: Surfshark started as a VPN but has grown to become an award-winning privacy protection toolset including an antivirus, a private ad-free search engine, and a data deletion tool that deals with data brokers. Surfshark's dream is a world where people have full control of their digital lives. That is why the content they produce highlights privacy issues whilst empowering readers to take charge.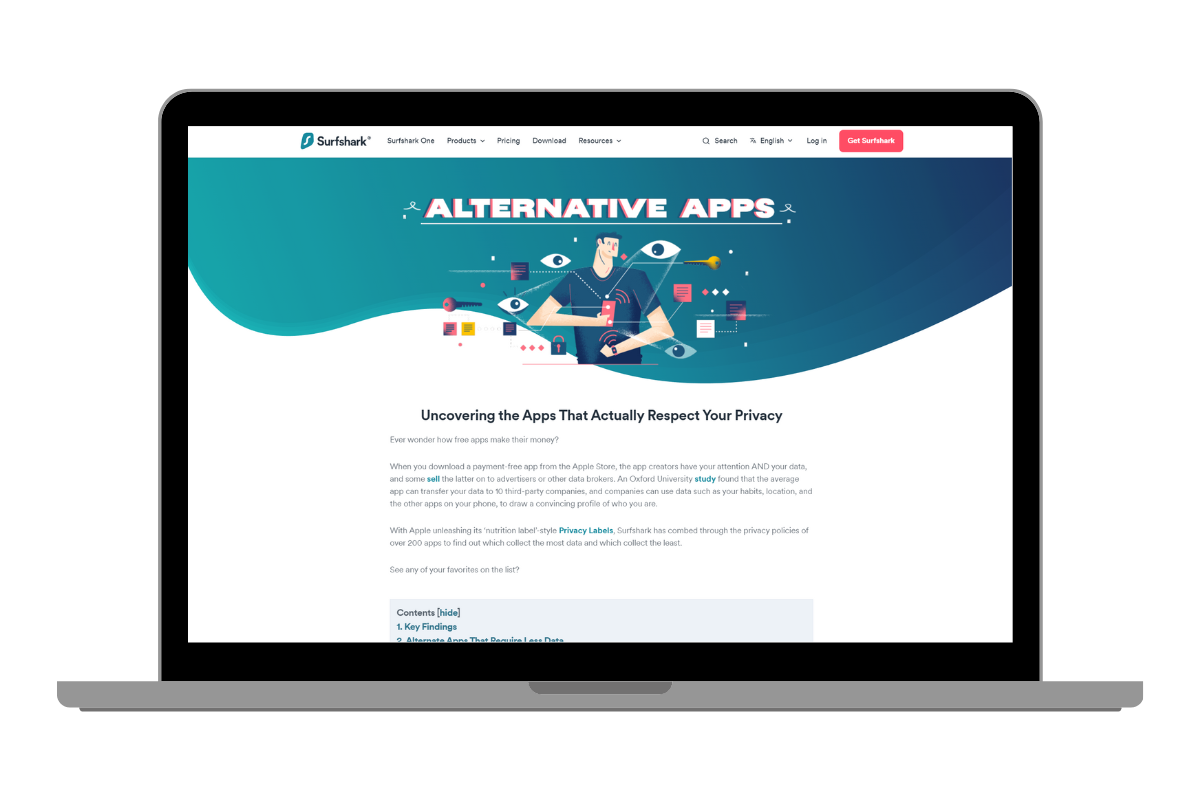 The Site: TheToyZone's mission is to help more kids end up with toys they love. They are a team dedicated to curating and reviewing the best toys for little fans – from Sonic toys and LEGO sets to Nerf Fortnite blasters and Polly Pocket dollhouses. TheToyZone wants to empower kids to follow their interests and incorporate their fandom into playtime.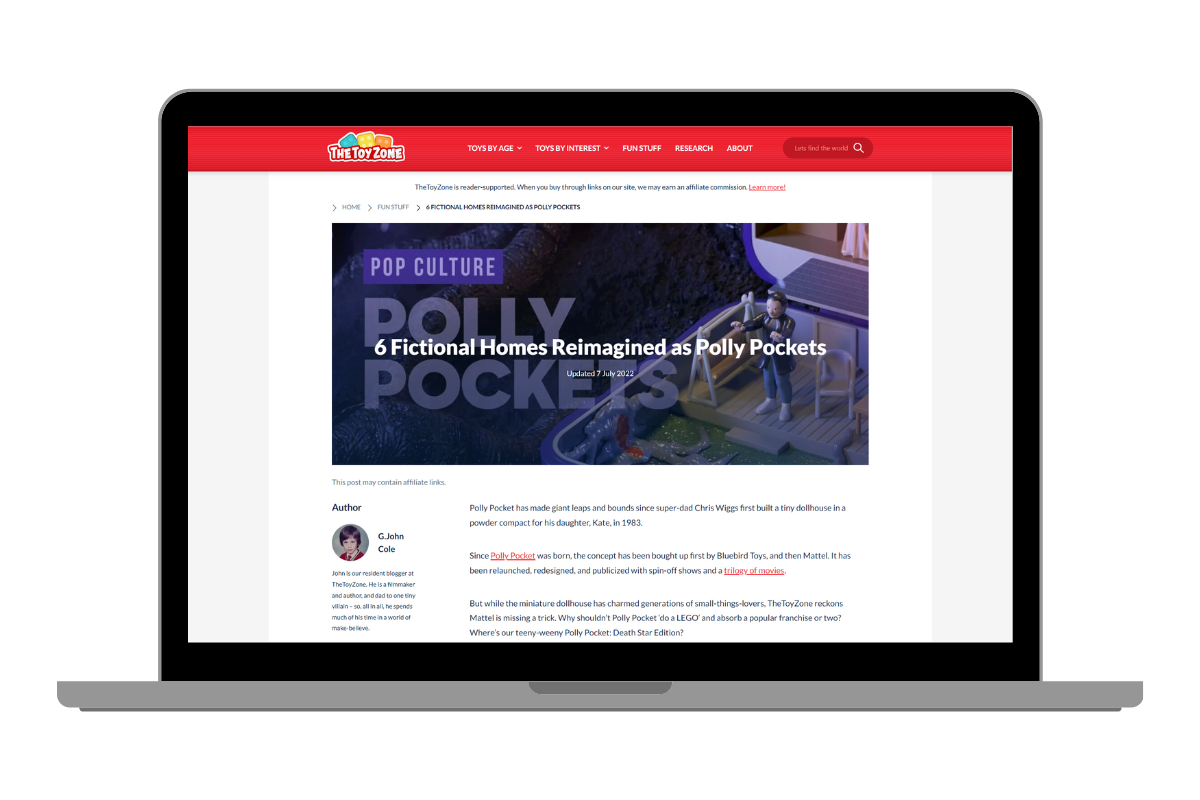 In all these cases, we produced content that is relevant to the site yet has a wider reach and bridges a good number of publishing verticals. By doing this, we're introducing millions of Internet users to these brands (and their overarching mission) with engaging content they will want to share with their friends.
Not only that, this content also brings value to the journalists and publishers who have benefited from engagement and traffic boosts. Next time a pitch lands in their inbox from either of these sites, they are likely to remember and be more open from the get go.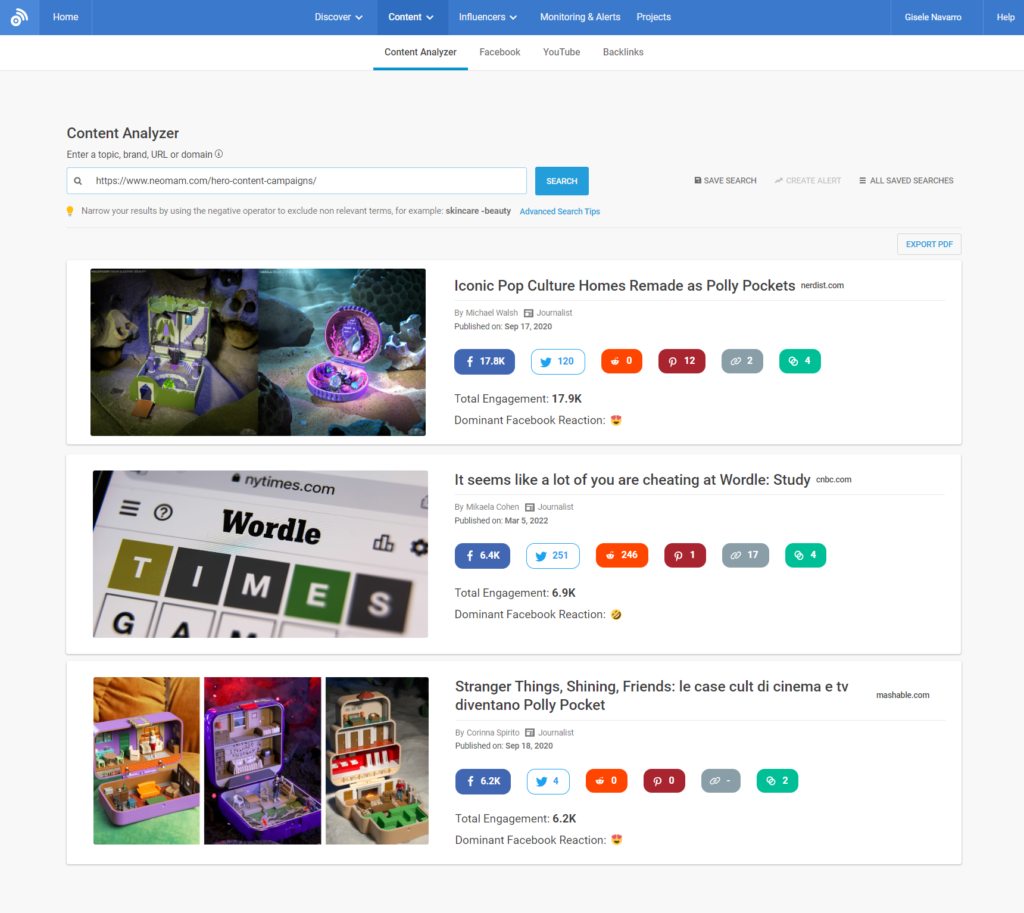 All this to say that it is possible to create hero content campaigns that are relevant and on brand yet creative and successful at attracting the interest of a wide online audience. It just takes a well thought out brief, which can only be produced after long conversations with key stakeholders about their business, their brand, their overarching SEO strategy and their plans for the future.
If you work with a solid brief just to end up with an irrelevant piece of content, you're consciously making a call to push the boundaries.
How to Plan Hero Content Campaigns That Break Into the Ever-changing News Cycle
If you follow the news every minute of every day, you probably think the world is going to hell in a handbasket. So, how can you get journalists' attention in times like these?
When Covid-19 was everywhere and every team out there was tapping onto reactive PR to insert their clients into pandemic-related news, we stuck with our content campaigns.
The key was to keep four things in mind:
1. Remember that not every journalist is tasked with writing breaking news
Even at the height of the pandemic, we found that many verticals were in dire need of fresh (and positive!) content. Just to show one example, The Oldest Company in Every Country (That is Still in Business) was launched mid February 2020 and it still went on to secure hundreds of links.
Take your time to identify the right journalist for your content. If you need help, here's the prospecting process we follow at NeoMam to build our media lists.
2. Bridge your content with overarching newsworthy events
Plan your campaign ideation to allow your team to have the flexibility needed to tap into the wider picture of what the world is going through.
Here's some examples of some topics that have been in the news a lot over the last couple of years:
>> Racial diversity: A Tribute To Paul R. Williams Homes
>> Pay gap: The Freelancer Pay Gap Report
>> Looming recession: 150 Highly Successful Companies Started During A Recession
>> Fuel prices: Comparing Gasoline Prices In Cities Worldwide
>> Female empowerment: Women Trailblazers – The Top Female Founder In Every Country
3. Always add evergreen and practical content into the mix
When ideating for new content, don't forget to look into practical and evergreen topics. Ideally, we want to always include at least one of each throughout the campaign depending on the industry.
>> Practical + Business (+ TikTok): A Small Business Guide to TikTok
>> Practical + Careers: How to Spot a Toxic Work Environment — Before You Take the Job
>> Evergreen + Cars: The Cost of Speeding Around the World
>> Evergreen + Toys: Every Country's Favorite Toys, Mapped
4. Identify the industry's most regularly covered topics
Every industry will have topics that writers are tasked with covering on a regular basis. You need to find out what those are so you can tap onto them.

Houseplants + Home:
Every Country's Most Popular Houseplant

Property value + Real estate:
The Home Features That Boost a Property's Value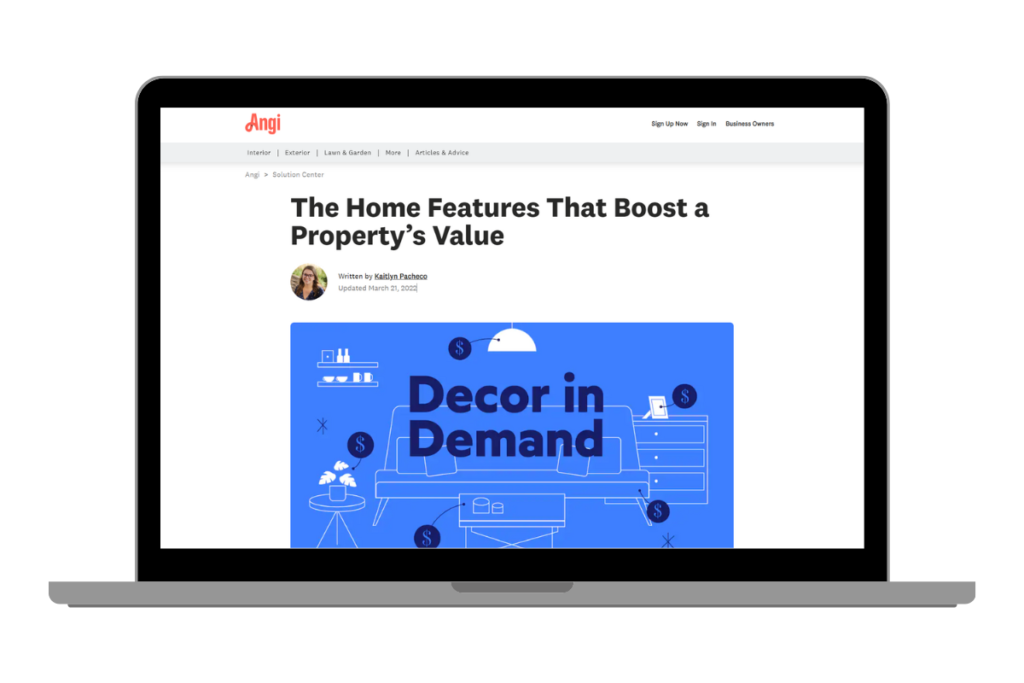 Dreams + Sleep:
The Most Common Dream In Every Country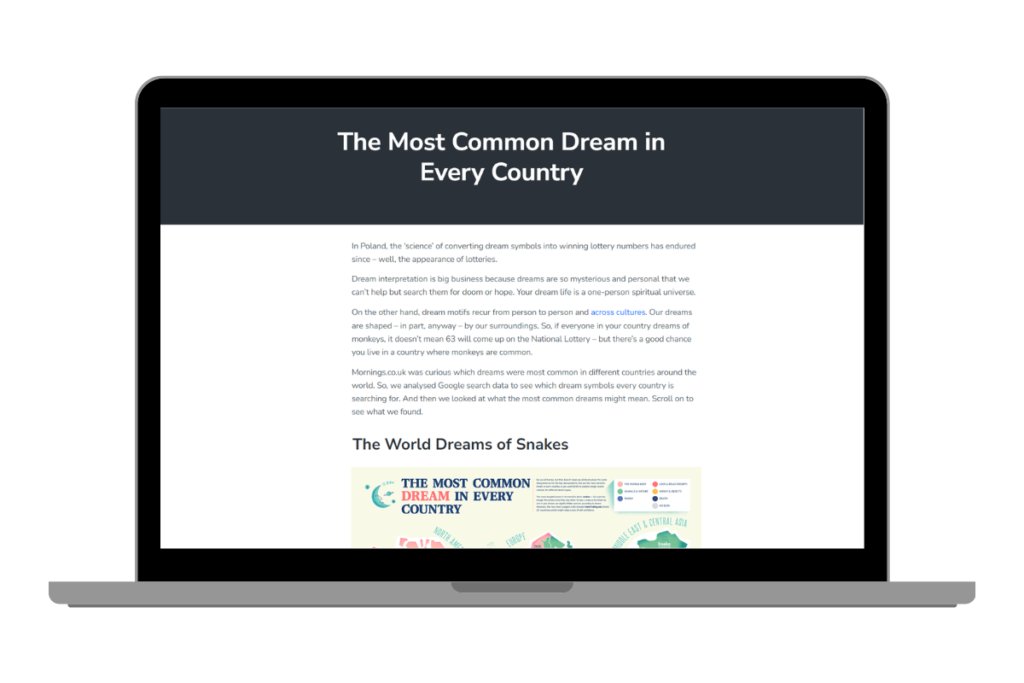 Malware + Cyber security:
The Most Dangerous Pop Culture Search Terms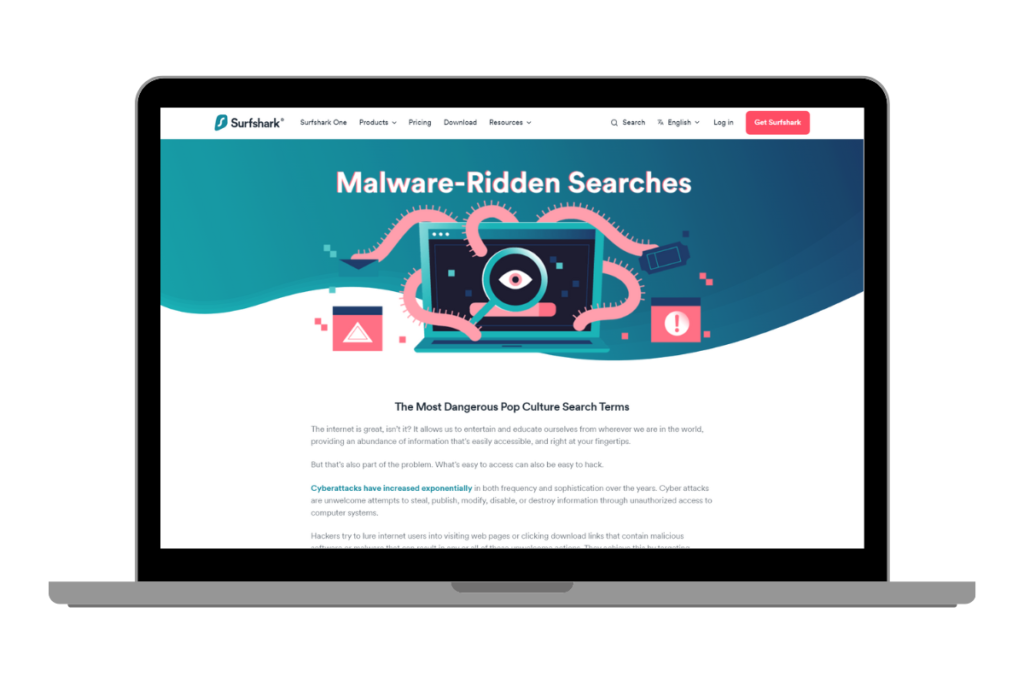 Retirement + Finance:
The Cost of a Comfortable Retirement Around the World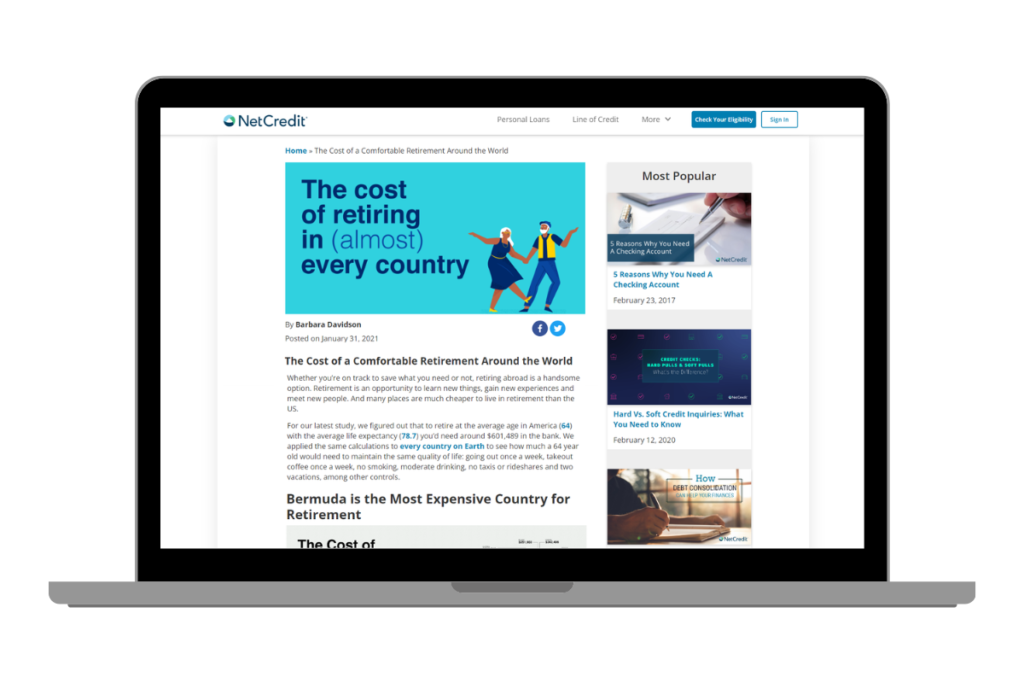 In our opinion, trying to tie everything to the news is a recipe for burnout.
The internet has sped up the news cycle and the constant news can feel relentless. That's why every now and again there's a new post on social media discussing the difficulties with always being on, and offering advice on how to avoid getting caught up in the negativity that comes with the news.
A balanced plan including a mix of evergreen, practical and newsworthy topics increases your chances of breaking into the news cycle even at the worst of times, whilst ensuring you're creating content that is long lasting.
How To Create Hero Content That Attracts Links for Months and Years After Outreach Stopped
At NeoMam, our number one focus is to create content that people will want to share for months and years to come.
In order to do so we follow these fundamental principles:
1. Explore topics that are relevant to the site yet interesting in the eyes of a wide majority of people
Bonus points for ideas that have potential to be updated year after year or when new data is available.
2. Ensure your methodology is water-tight and your research is trustworthy
Ideally, the fact that your brand or your client is behind this research gives it even more credibility. This is where relevance is key.
3. Focus on writing copy that offers insight into what was done and why, whilst putting findings into context
To aid shareability, make sure the copy in your visual assets gives readers all the info they need to quickly understand what they are looking at when scrolling social media. This will make each of the assets stand out in their own right.
4. Produce visually engaging assets that have been designed to be easily shareable
Embrace static formats and don't rely on interactive functionalities to show your data. Interactives can break over time, this is especially true for agencies after they've stopped servicing clients.
5. Make decisions along the way to guarantee that users will have a positive experience with the brand without feeling like they are being advertised or marketed to
Avoid tapping into trendy negative and controversial topics that might get you a flurry of links today but that won't engage users in the future. That is, unless it is something the brand truly cares about.
6. Relaunch the outreach whenever there's a PR opportunity to tie it to a trending topic, an awareness date or an event
Always check to see if the content would benefit from any updates before launching the outreach. Focus on identifying a handful of relevant publications instead of blasting hundreds of inboxes.
That's the exact process we follow every time to create content that continues to be found and linked out to for months and years after we've stopped promoting: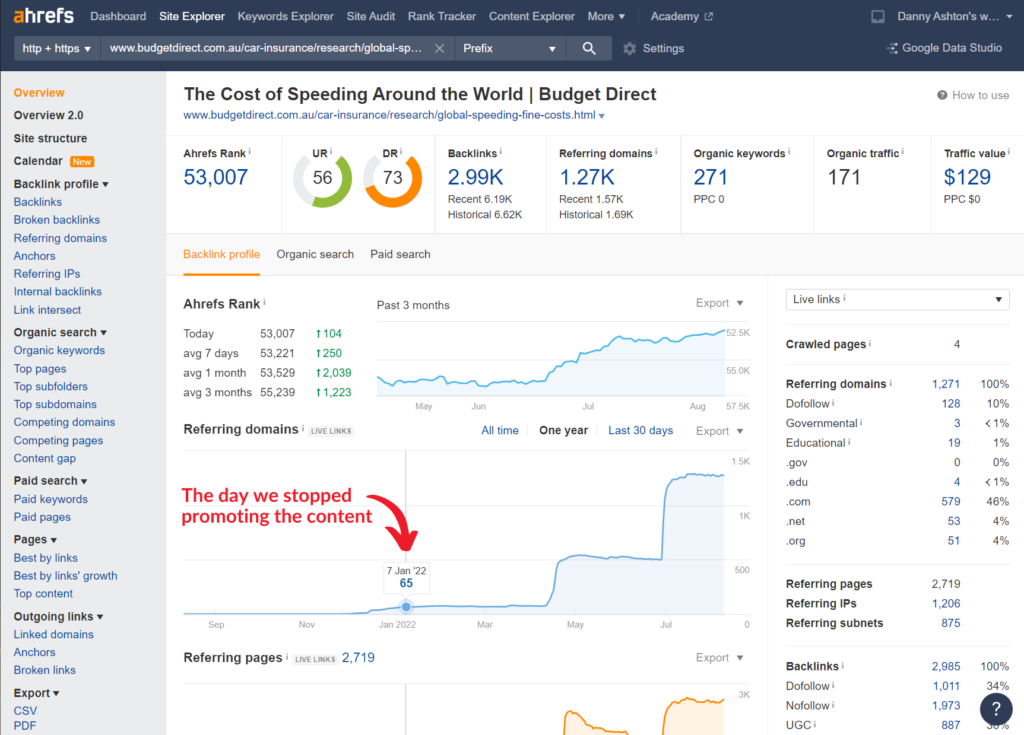 This is what we try to achieve with every project we launch into the world: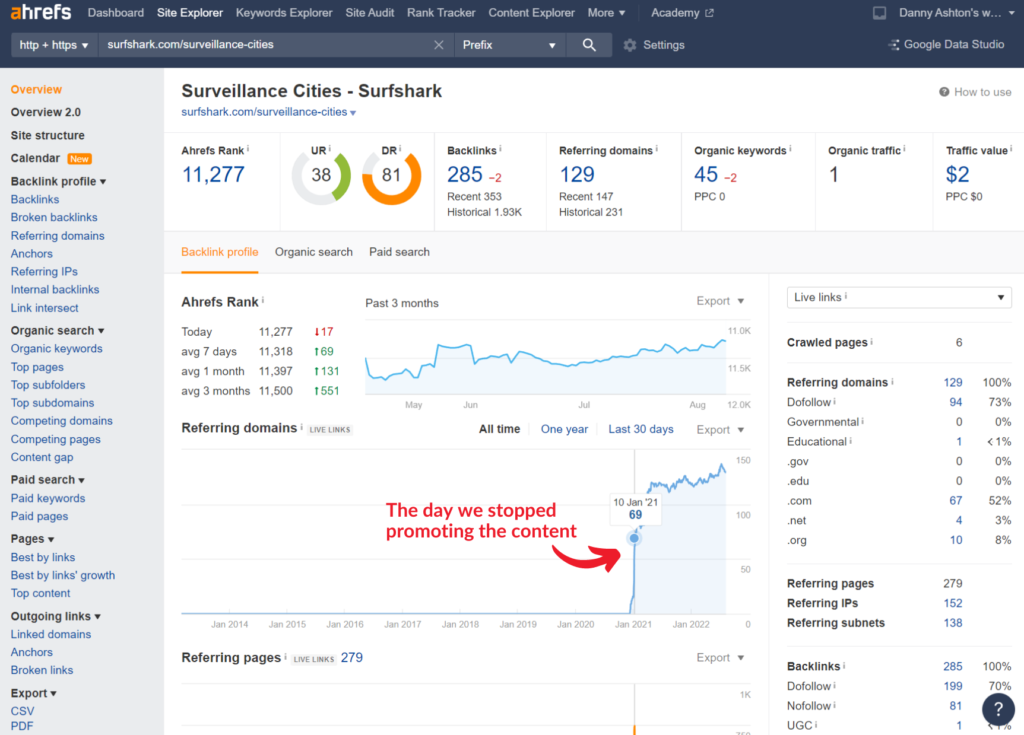 And it doesn't happen just with campaigns that close near the 100-link mark: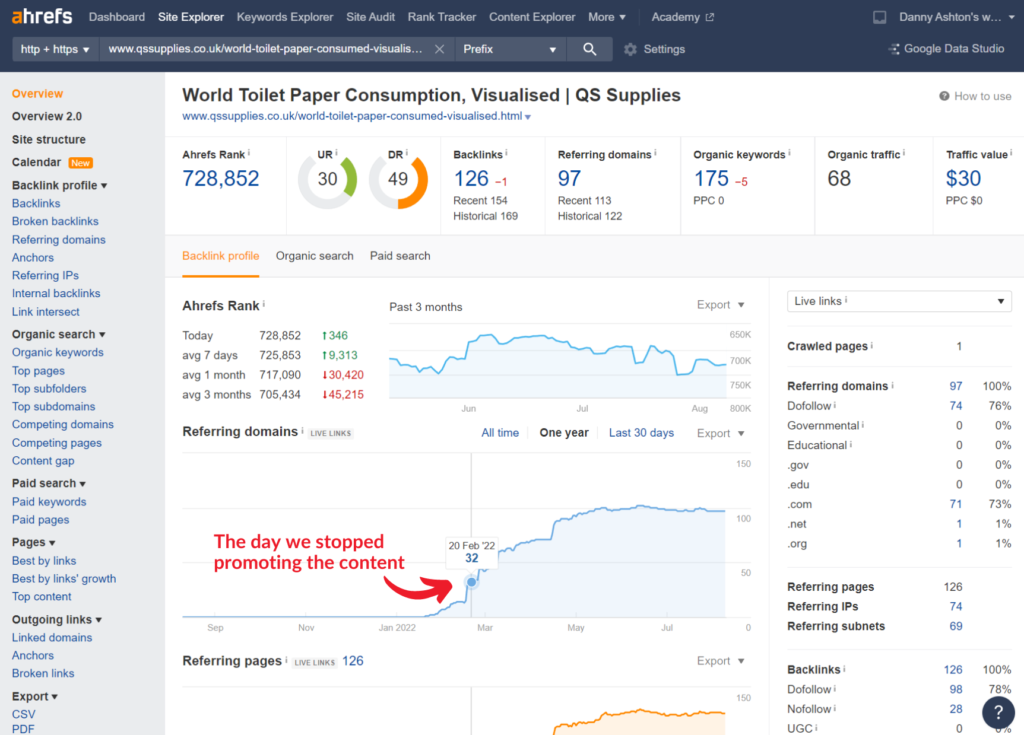 This is what we want to see in the future from content we produce right now: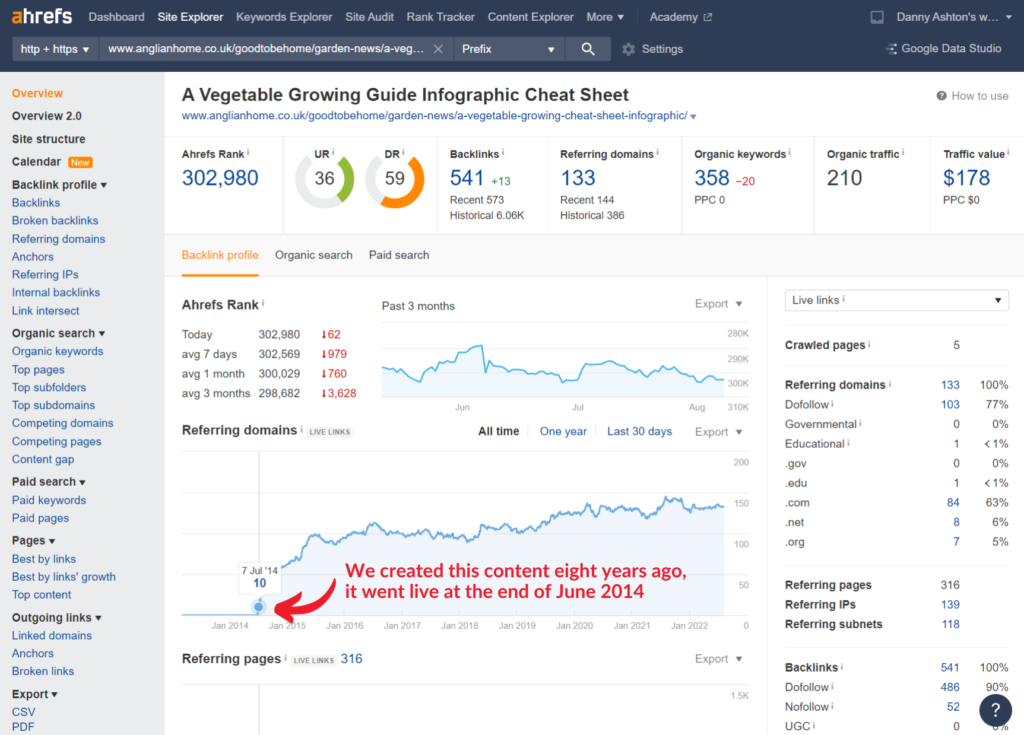 It is important to clarify that not every piece of content we produce goes on to become a long-lasting linkable asset like the examples above.
That being said, we are successful at creating a good number of them because everyone in the team works towards the goal of producing content that people will want to share for months and years to come. You've got to be intentional about it.
How To Ensure Your Email Outreach Is Not a Waste of Time
Outreach is the one step of the process where success depends on people outside of your team. It's a human to human thing. It makes one feel vulnerable and slightly terrified every time.
That is why outreach is not for everyone.
There are people out there who are happy to push through the terrifying nature of it all because they feel energised every time they find the perfect journalist for their content or when they land a link on a new website. Every campaign is a different challenge that allows them to lean into their communication skills and their natural abilities to connect with other people. That hunger is required if they are to push through a flopped campaign brimming with ideas to improve results next time.
Unfortunately, a lot of the email outreach we all receive is planned and executed by people who don't want to think about it.
They don't want to talk to anybody. They don't want to spend any time browsing the Internet to identify good targets. They want to press a button and get some results on the other end. They want them now and with as little hassle as possible.
When you plan and execute outreach campaigns that automate a vast majority of steps in the process, you're leaving the human in you out of the equation. That is the moment when outreach is no longer a human to human connection, at that point your outreach is just spam.
This is the type of outreach that marketers complain about when sharing the crappy outbound messages they receive via LinkedIn, and the same type of emails that journalists love to hate on Twitter.
If that's the way you plan and execute the outreach stage of your campaigns, then you're 100% wasting yours and your recipients' time.
Here's a few rules to ensure your email outreach is not wasting anybody's time:
1. Spend time identifying the publishing verticals and the types of websites that are a good fit for your content
🧭 Here's a 5-step process to get you started: How to identify suitable types of sites and publishing verticals for our campaign
Don't start sending emails without a strategy. A thorough outreach strategy will help you easily identify what works and what doesn't, so you can capitalise on the former and stop investing time in the latter.
2. Spend time identifying sites that match your strategy and writers that are likely to want to share your content with their readers
🎯 Here are five different approaches to help you: How to find sites that will resonate with your content
You're looking for a site that regularly covers the main topic of your campaign or that has a section where your content would naturally fit, and a writer that covers content created by others and that credits their sources with a link.
3. Spend time writing email pitches that are highly targeted to the different types of websites and publishing verticals you're going to reach out to
✍️ Here is one approach we use at NeoMam to write templates that feel personal to the recipient: How to write email outreach templates that feel personal to every person who receive them
Tailor your pitches to verticals by writing subject lines that mirror their headlines and highlight findings in your content that are of particular interest to their vertical.
Tailor your pitches to regions by highlighting relevant findings based on their location of interest. You can do this by continent (especially in Europe and Asia), country, region, state, county, borough, city and town.
4. Do not follow up multiple times – everybody hates that
Our rule of thumb is to follow up once with a fresh angle 4-5 days after the original email went out. We only follow up more than once when chasing a site or a writer that said 'yes' and requested the press pack.
And that's it. In simple terms:
>> Be deliberate in selecting the types of sites and the writers that will see value in your content – make sure the link will make sense to them and not just to you.
>> Pitch your content to each vertical and region in your target list using words that fit their way of writing, and highlighting points that align with their way of breaking news.
Outreach is only a waste of time if you're spamming people without even checking out their profiles based on who they linked to in the past or what keywords they used in their old articles.
When you stop relying on tools to tell you who to pitch, you won't be able to mass email thousands of inboxes. Instead, you will go into outreach with the feeling that you know the people you're speaking to.
How To Create Hero Content Campaigns That Rank And Drive Valuable Traffic
The idea seems to be that hero content campaigns won't rank for valuable keywords because it's always irrelevant. We discussed relevance at the beginning of this article so we won't go through that again, but I want to touch upon this argument regardless.
What makes a keyword valuable will depend on the site's strategy, its stage of growth and the business plan behind it, so it is not as straightforward as it may seem.
There are competitive keywords with the potential to start visitors on a journey through the content on your site. Even if they are not ready to purchase from you, they now know you exist (in the context of your service or product) and are more likely to trust you: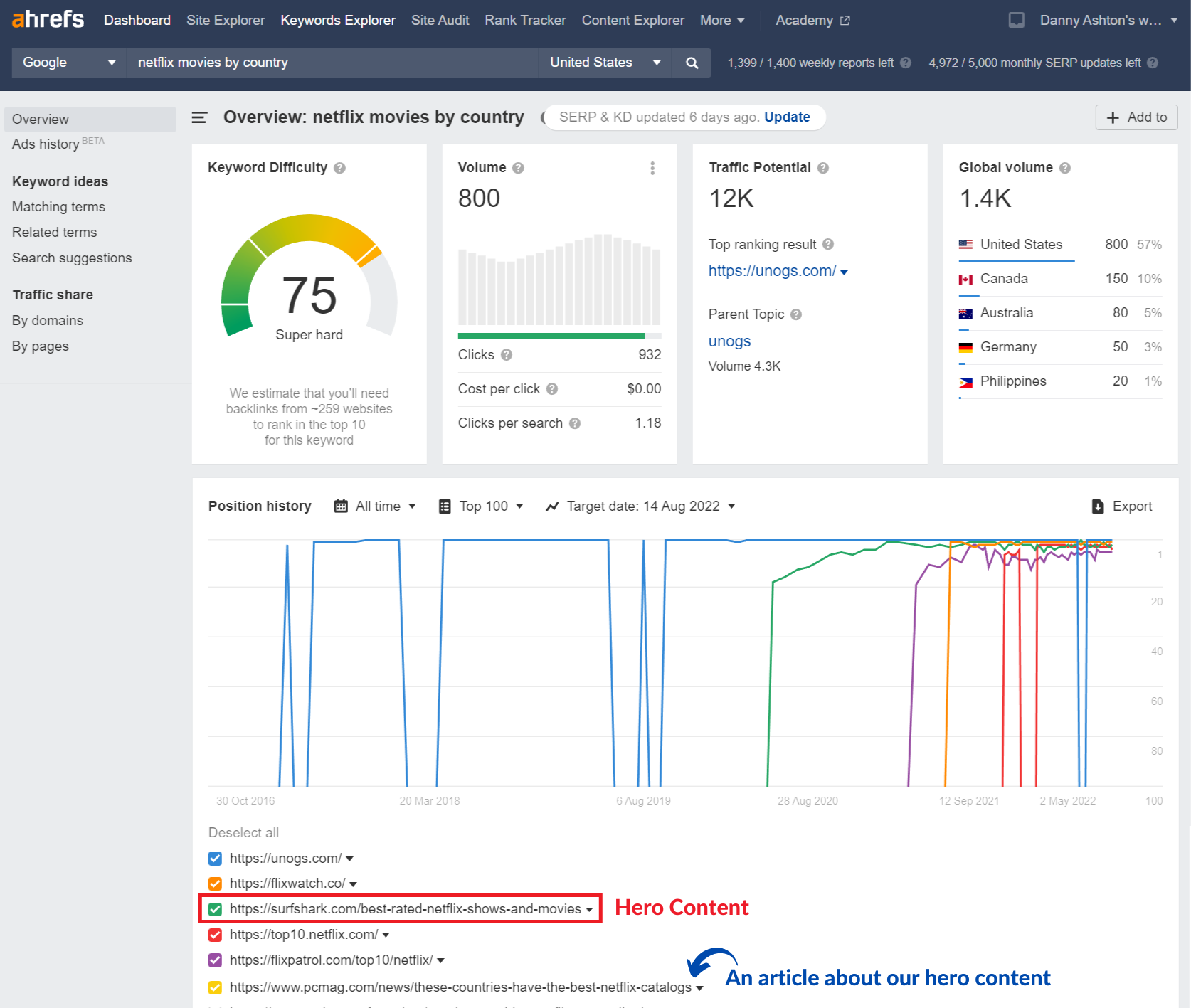 There will be long tail keywords with the potential to move visitors down the sales funnel through your site: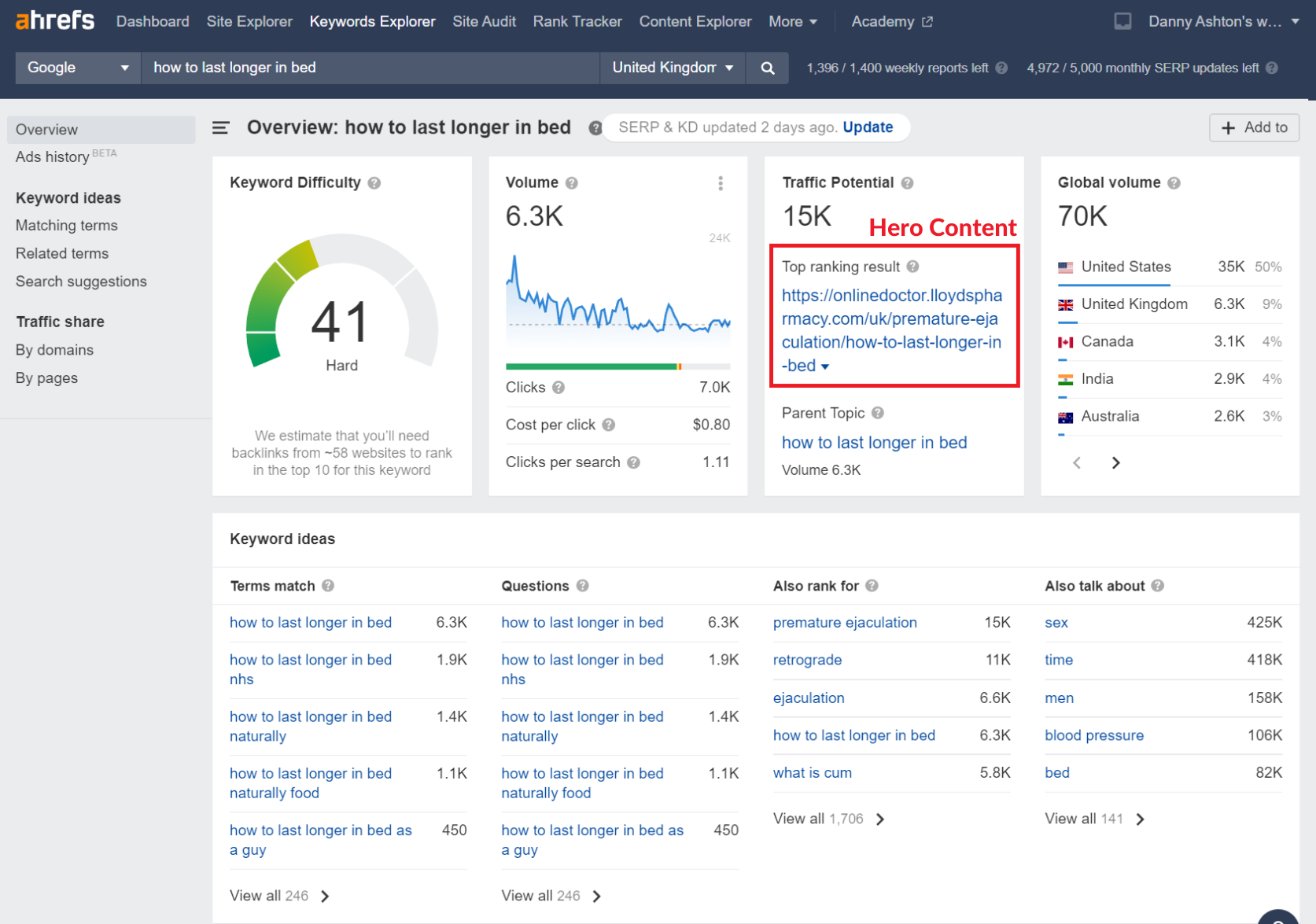 There will be hero content that ranks for informational keywords driving a ton of traffic each day, with findings in your study that go on to become a key statistic that users search for and journalists are likely to source back to you: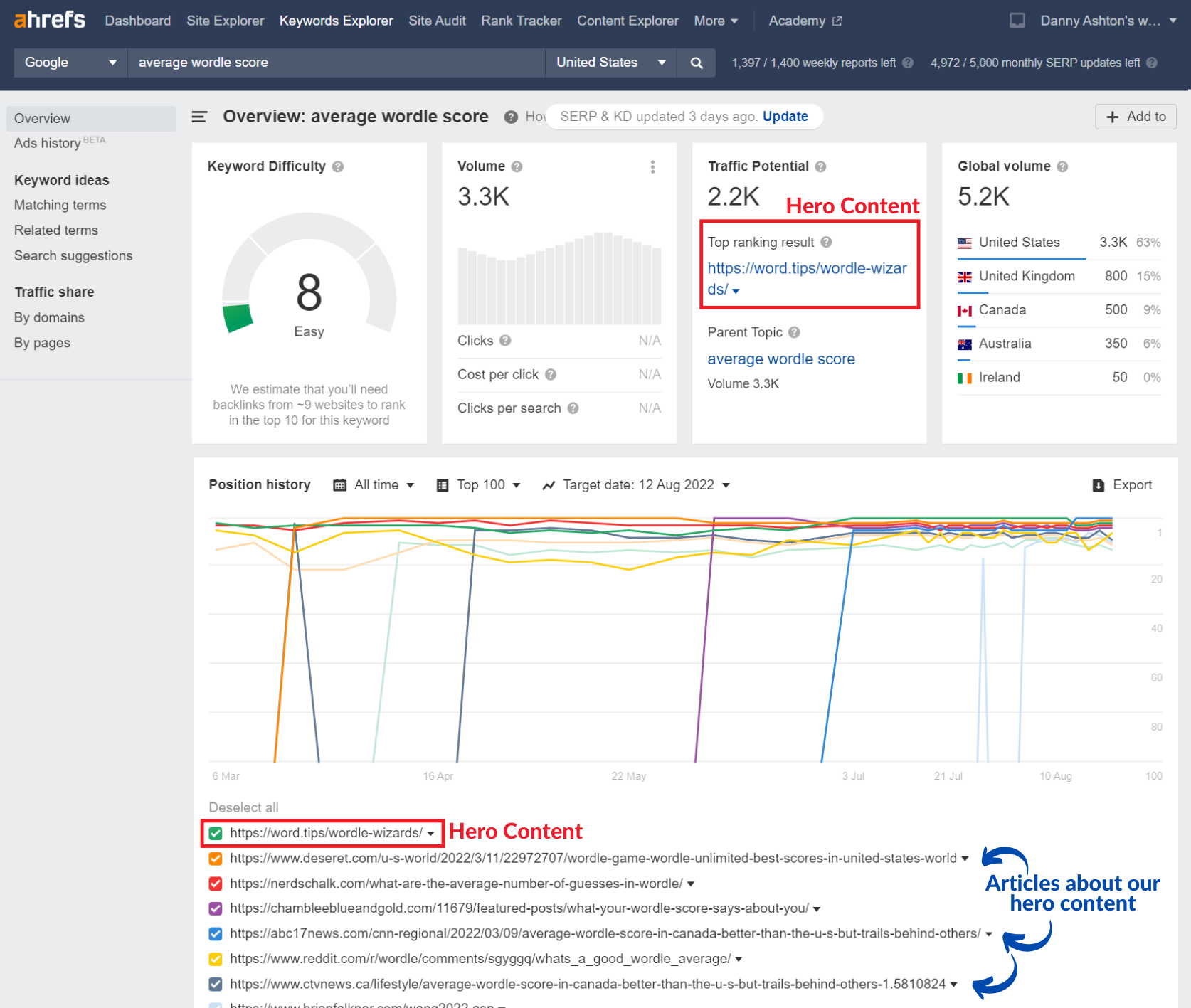 If you're spending enough time understanding the business, the website and the strategy behind it, you will generate ideas for relevant keywords.
If you're writing copy for the landing page with readers in mind, you will naturally use relevant keywords as well as phrases and words connected to them.
If you're building solid links to those pages, you will see them ranking.
What Does Google Say About Hero Content and Links?
The term 'hero content' was coined by Google back in 2014 as part of the Hero-Hub-Hygiene content strategy framework they shared in their YouTube Creator Playbook for Brands.
Even though the model was devised for YouTube content, many people started applying it to other types of content marketing as it is a simple yet effective framework that makes sense.
The Hero-Hub-Hygiene (now Hero-Hub-Help) framework introduced brands to three types of content that work together to create a follow-worthy content marketing channel: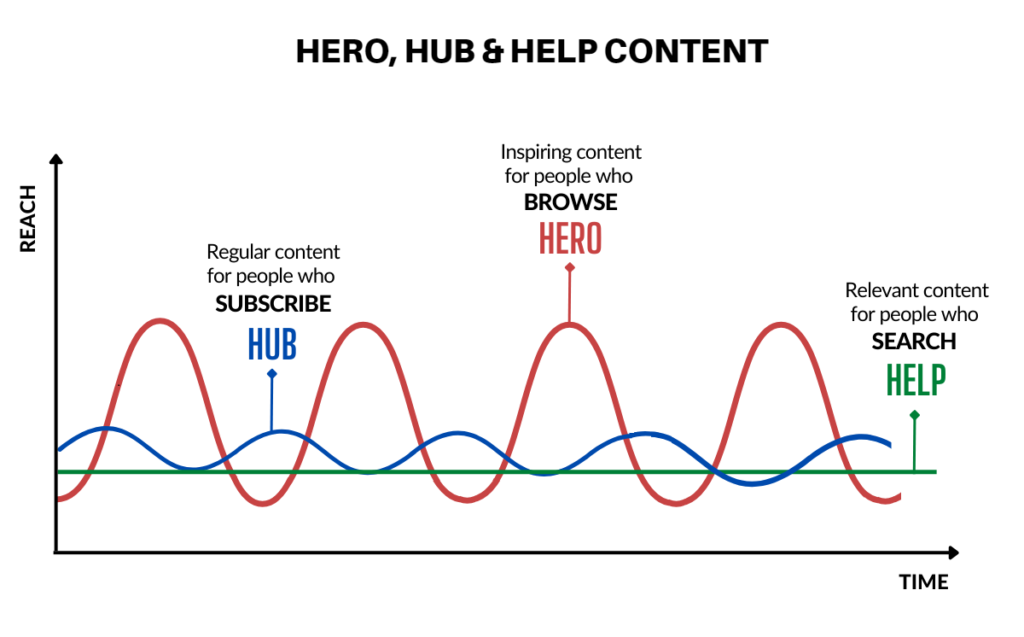 So, in simple terms, Hero content is that awesome content you see online that takes time, money and planning to produce. These are pieces that mainly sit at the awareness stage of the sales funnel: they introduce the brand to a large new audience, helping to drive authority and engagement.
We learned this directly from Google. They pointed us in the direction of a content strategy that includes regular keyword-focused and brand-focused content with a sprinkle of highly memorable content that will make an impression on people who are not searching for your brand or your products yet.
But what about the links?
As of 2022, Google is really clear on what they are looking for:
---
"The best way to get other sites to create high-quality, relevant links to yours is to create unique, relevant content that can naturally gain popularity in the Internet community.

Creating good content pays off: Links are usually editorial votes given by choice, and the more useful content you have, the greater the chances someone else will find that content valuable to their readers and link to it."

~ Google Search Central
---
Google's link schemes guidelines have been updated many times to include new tactics that will not be tolerated but the bit above has not changed.
Now, there are people out there who believe that reaching out to sites with your content is against these guidelines because it's not explicitly stated as part of the process to "naturally gain popularity in the Internet community".
The internet is huge and not every website has a big following or an engaged online community around it. Reaching out to a bunch of people who have access to an audience to break the news about your hero content not only makes sense but it also validates the editorial nature of what we are trying to do.
And if that doesn't convince you, here is what John Mueller has to say about it:
---
"From our point of view, it's fine to contact people and tell them, 'by the way, I have this great content and… maybe it's something that you would appreciate for your website.'

But anything beyond that, where you're saying like, well… you must link to me like this or you must pay me money or I will pay you money for this link or I will exchange something for this link… That's all something that from our point of view would make this an unnatural link.

So providing it to people and promoting it and saying 'here's great content' and they link to you that's perfectly fine.

Providing it and saying 'I will do an exchange if you give me a link', that's something we would consider unnatural."

~ John Mueller
---
A recap:
1. Google taught us the power of hero content.
2. Google specified that the best way to get other sites to link to your site is to create unique, relevant content.
3. Google clarified that promoting your content by putting it in front of people who could see value in it is perfectly fine.
After all this, it's hard to envision a world where our sites will get penalised or pushed out of the SERPs for creating and promoting outstanding, relevant content with a link KPI behind it.
The Future of Link Building
Links are massively over thought and over-optimised in the name of SEO.
Back in the day, I would receive a spreadsheet with every new site I was assigned to including how many links I had to build specifying:
– The percentage of links with nofollow attribute
– The number of press links, blog links, forums links, .gov links, .edu links
– The percentage of homepage versus money page links
– The preferred position of the links inside the page (in-content links at the top of the page, image links, etc.)
– The anchor texts to use when hyperlinking
– The minimum PageRank score (later the desired Domain Authority or Trust Flow) or a percentage of links per PageRank band
It was like a takeaway order. I would get this sheet and I would have one month to fulfill the order.
The people who would request links like this were what one would call 'technical SEOs', and they were putting these recipes together as part of their search engine optimisation strategy.
In some cases, these recipes would be the output of link research and backlink analysis tools. Other times, they would be the result of hours spent analysing the backlink profiles of competitors or just successful sites in the SERPs.
Something all these recipes had in common was that the people designing them had never built an external link in their lives. In some cases, they even hated the fact they had to spend any time thinking about backlinks in the first place.
I remember the first time I went to BrightonSEO and someone laughed in my face when I said I was a link builder, followed by telling me they would rather clean toilets than build links.
Back then it was already clear to me that the way I saw link building was different from how the majority of the SEO community did. I believed in the value of a link beyond the ranking factor.
And the only reason I saw link building this way was because I grew up as a link builder reading the wise words of Eric Ward. He shaped me since the very beginning with insightful views like this one:
---
'Links are not "things". Links were never supposed to be a commodity. Links were -and remain- the online evidence of a person's desire to curate or share something useful, funny, thought-provoking, educational, controversial, or enlightening. Links are affirmations, opinions, proofs, examples, validations.

And most importantly, links and linking related signals remain the primary way people discover content. People. Use your own behavior as your test lab. How many devices do you use on a daily basis to access online content? I use at least three every day; laptop, ipad, iphone. I'm not thumb-typing 45 character URLs into my phone or iPad. Nobody is. I'm still clicking with a mouse or finger tapping on a screen. And what are those things I'm clicking and tapping? Links, my friend. Links.'

~ LinkMoses
---
Back in those days, nobody would ask about traffic or relevance or ranking potential or brand sentiment or social engagement. Instead, the concern would be around C-Class IP addresses, server location, TLDs, nofollow, exact match anchor text percentages, PageRank, and so many other things that are not a thing in today's digital PR world.
The cynic in me thinks that traffic, relevance, rankability, brand sentiment and social engagement are new ingredients to the same recipe. A recipe that is meant to make the perfect meal for Google, 'the thing that Google wants.'
To me, the future of link building comes from understanding that it is not about Google at all.
If you want to create useful content for customers at the buying stage of the funnel, do that. If you want to create informative content that helps ease pain points customers have with the product you sell, do that. If you want to capture the attention of a wide audience with newsworthy content, do that.
But don't go into content thinking about the ranking positions you can reach and subsequent links you could get, how much money each link will cost you, and how much effort it will take. Because if you do that, then you will cut corners and create subpar content that is not good enough for anybody involved:
>> Research won't be reliable, contributing to the waterfall of fake news we are all drowning in
>> Execution will be rushed, making it unnecessarily stressful and less enjoyable for the people involved in creating the content
>> Copy will be overly optimised, making it untrustworthy, robotic and difficult to connect with as a reader
>> Low link numbers will mean that more content needs to be pushed live more often, so scalability will have to kick in – probably through AI – eventually driving content quality down even further
The end result will be exactly the same as all the other content out there created by teams who see content as a means to an end.
Who wins when we are all lost in a maze of samey subpar content?
It might work for an agency that recycles, repackages and resells content to new clients, but it won't work for the clients' business. That is why so many businesses are building their own inhouse teams, and it's no coincidence that some of the best content I've seen recently comes from said inhouse teams.
The same applies to content created as a means to a ranking position. I know I'm not the only person who is sick and tired of the amount of crappy SEO content that I have to wade through to find an answer to nearly every question I ask Google.
If there will be a future where links still hold value, then we need to place that value in the hands of the Internet users.
If Google decommissions the PageRank algorithm, that won't change the important role links play to help all of us navigate the web.
If you don't understand the value of a link beyond the ranking factor, the authority sculpting and the trust signal, then you will always be looking over your shoulder as you run the never-ending race of pointless link building.
The future of link building is to stop thinking about the links.
---
Why I Wrote This Post
I wrote 5,000 words in defense of the thing I've spent the last 10 years of my life specialising in because I believe in it.
We don't refer to what we do at NeoMam as 'hero content' but we've had people use our work as examples of what 'hero content' is and we understand why they would, especially right now. Our content takes a lot of time, effort and money to be made + it sits at the awareness stage of the funnel – and it seems other teams are currently walking away from this kind of work.
But I still believe in this, NeoMam still believes in this.
We get upset when we see a campaign pushing the findings of a rushed study with massive holes in its methodology. We feel sad when we see yet another content-less campaign doing the rounds, where nothing gets published on the site and there is no way to see what was actually done behind the headline. We worry our next Jealousy List won't include work from other teams like ours because there is less and less hero content out there from agencies.
I hope there will be people reading this, who still believe in creating outstanding, engaging content that most people will want to share and that doesn't heavily push a marketing message or sales objective. If that is you, know that there is value in what you're doing. Don't feel pressured to walk away from what you love and what you're great at because it doesn't fit your agency's sales pitch anymore. If you want to make your hero content work harder, take the advice we shared today and run with it. My DMs are always open to chat about content and share advice on campaigns.