Project management done properly will help your business get better at what it does. It improves efficiency and team skills development, giving your organisation a competitive edge. But it's not always easy finding the right tools for your agency. This blog post shares our experience in finding tools that work and our easy to adopt, and explains the key features that work for us.
In the beginning…
In the early days of our agency when our clients were few and our team small, our project management system was something that causes me to shudder when I think about it.
At the very beginning we got by with a few emails and our good old paper notebooks. As our team expanded to include a mix of content producers, designers, ideation managers and media relation managers, our project management system evolved to a disorganised spreadsheet combined with 'an email here somewhere' to keep a track of the projects. As you can imagine, things started to slip through the net. We lost information and our clients quite rightly grew frustrated. It was time to upgrade to the next level or fall through the floor.
Our first stop was finding a project management system to replace those sheets of paper and multiple questions shouted across the office. After exploring various options we decided to run a trial on TeamWorkPM – three years later, it's still our key tool for project management.
Teamwork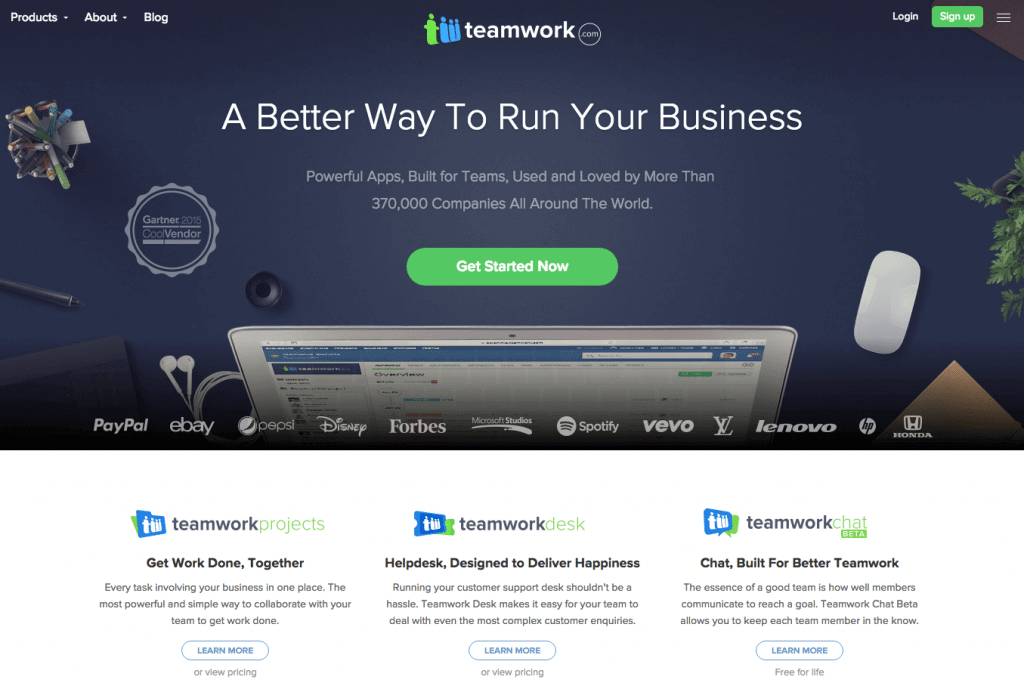 teamwork.com is a project management software that helps to keep all your communications in one place.
Teamwork suits us as it provides:
The ability to create

template task lists

with start and due dates, which you can simply activate for new projects without creating brand new task lists from scratch every time.

By creating set templates with start dates and due dates, they can be easily activated into projects to start on a specific day. The timelines will stay fixed, which is great if you know how long a specific task will take. It's also flexible enough to being deadlines forwards or backwards according to your priorities.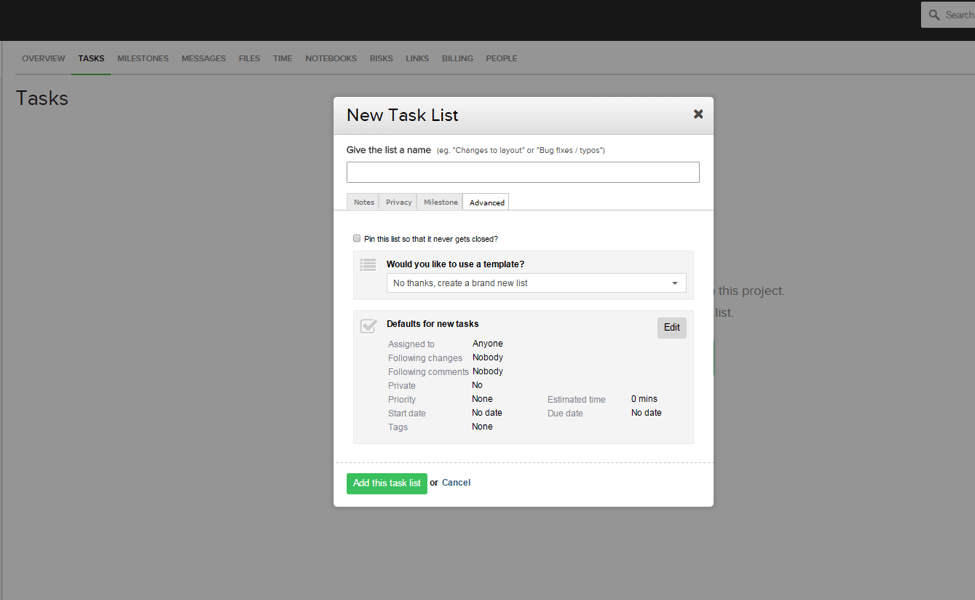 Individual team dashboards

for upcoming, due and late tasks
The ability to create

project categories

so all project managers can keep their projects in one place. This way you can create filters for types of projects to make it easy to find a certain project by type.
Limitations
As with any project management system, it's difficult to have a one stop shop for everything. The main drawback we find is that there is no easy way to get a snapshot view of where all your projects are in one go. We still maintain a (neat) Google Sheet to keep a glance of where we are at any one time.
There's also no real reporting features, so we do this using a separate system too.
Harvest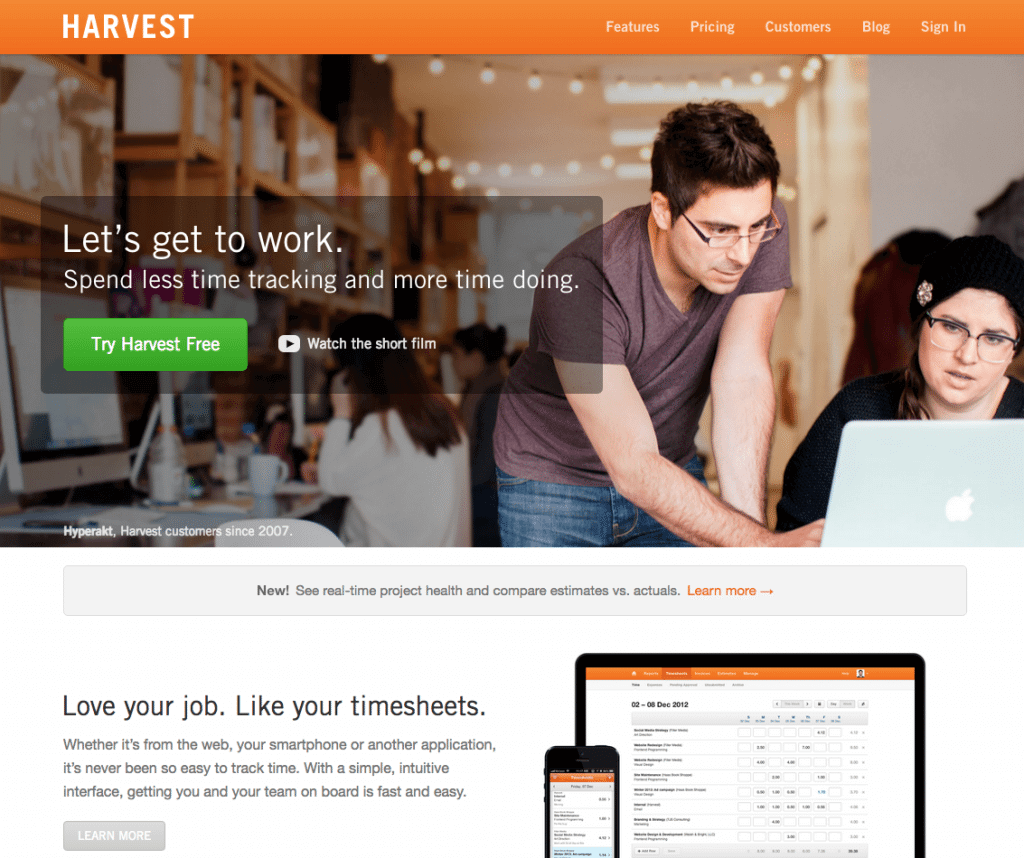 Staying on time and on budget for projects can be tough – nearly as tough as getting everyone used to keeping a track of the time they use.
We initially chose

Harvest

due to it's easy integration with teamwork, as well as Chrome and Mac. It's also a really easy-to-use tool to make time tracking a no-hassle part of the day:
Harvest also has great reporting so you can extract data for different teams and time periods.
Limitations
The main limitation would be the reporting function – it's not very user friendly, so it takes a fair bit of fiddling around to get the data you need. It would be awesome to be able to get some dashboard data on the reporting function based on budget usage (Harvest, if you're listening!).
Slack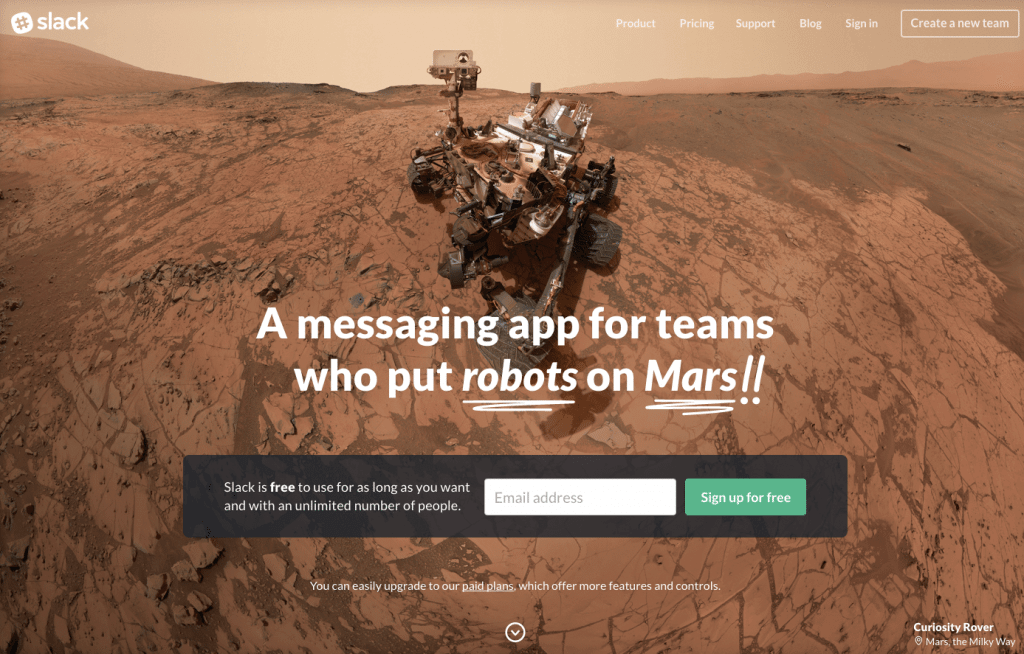 Slack provides a way to enhance communication speed via an instant messaging system.
Often, particularly in our ideation process, we need responsive feedback so we can quickly jump to the next step, without waiting around for someone to check their email.
Slack:
Notifies you of an instant message whether you are working on your desktop or mobile

Allows you to create message groups per project called channels

Allows you to subscribe to feeds
Limitations
It's not ideal as a project management tool on its own, as the chat function is less formal- so might not be so easy to hold team members to deadlines and milestones. It is perfect as a supplementary tool to speed up the discussion process if you can't hold an in-house meeting, which, in the modern world can't always be possible.
'The Ideation process before Slack was slow and it could take a long time to get input on ideas from the rest of the team. With Slack, everything is much quicker. Everyone can discuss the audience targets and ideas and share their thoughts in one easy to use place. I can honestly say the quality of our ideas are even better now because we are using Slack as a communication tool'.

— Marina Biljak, Ideation Manager
DropboxThe database for any business is as important as the business itself, and NeoMam is no exception. We wanted to have a robust system which we could use to store and share files internally as well as with our clients.
We chose Dropbox for the following reasons:
User-friendly: The best thing about Dropbox is definitely its clean interface, which enables ease of operation throughout the system. It is a clear winner in this department compared to other cloud storage providers.
Reliability: Dropbox uses high level of encryption to protect user data. Moreover, users can further enhance security by password-protecting their files/folders.
Painless Sharing: The different levels of sharing allowed by Dropbox simplifies the process of sharing data with others.
Synchronisation: Dropbox is perfect for file syncing as it gives you access to your stuff anywhere, irrespective of what device you are using.
Limitations
When it comes to larger amounts of space, Dropbox is a bit expensive compared to its competitors.
"The no-nonsense data storage approach of Dropbox is a killer, which definitely facilitates seamless collaboration for my entire team."

— Sam Shaikh, Project Manager
Streak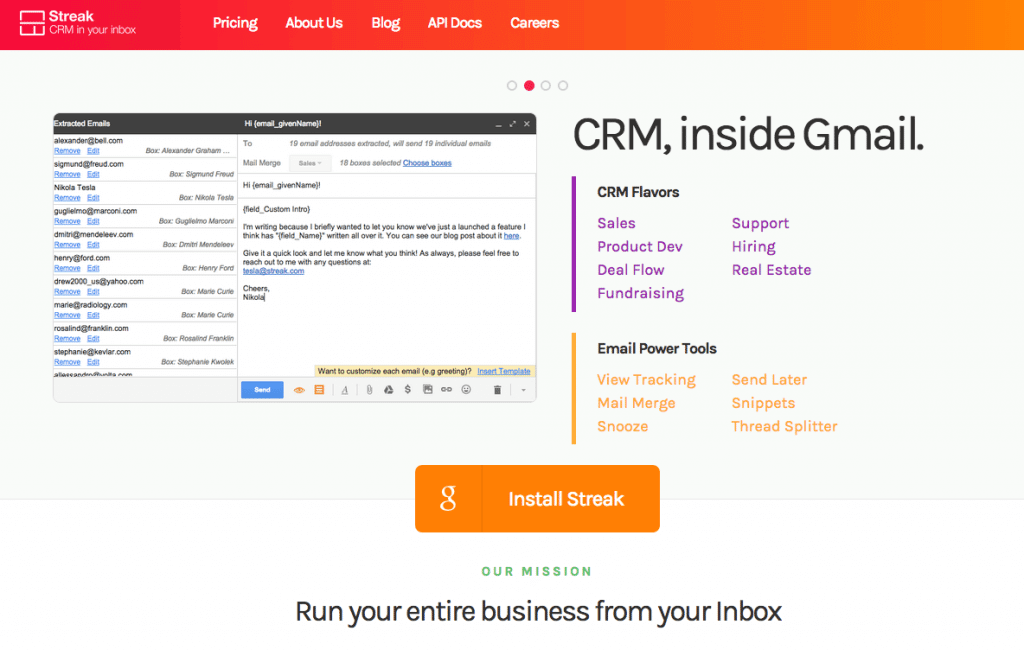 We came across this handy tool Streak while we were struggling with client liaison and time wasted in searching for information. Streak is a Gmail extension that serves as CRM, and helps organising and managing emails and enables collaboration.
Streak boxes create a view that displays all the relevant information of a given project on one page.
It has a couple of organisational levels available, so emails could be grouped into boxes, stages or pipelines, which provides flexibility and creativity in organising projects.
Each organisational unit could be easily shared with other team members who are using Streak.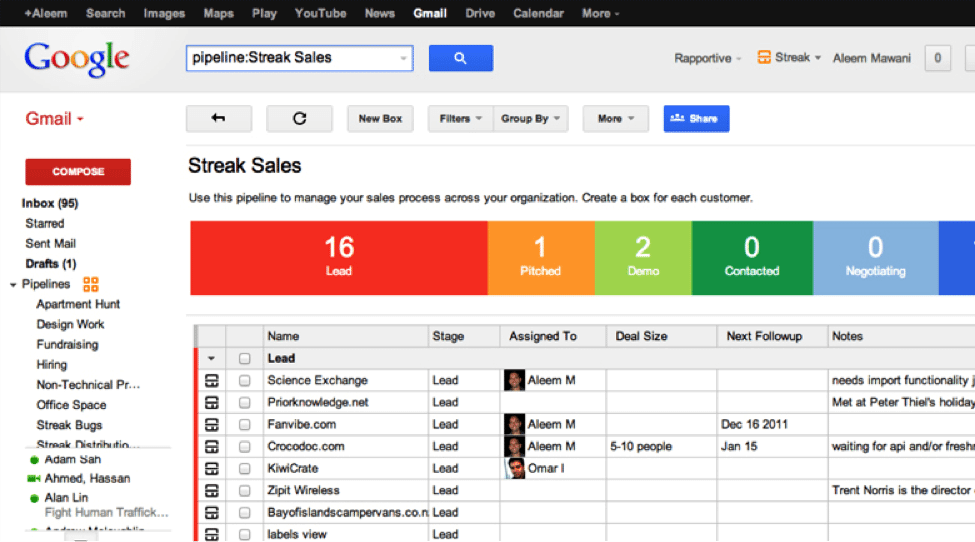 It also gives nice ability to add notes and various fields to capture project information like dropdown, tags, etc. So we use it to see at a glance different information about the projects.
Another handy feature is adding snippets – email templates that are easily accessible and scheduling emails to be sent later.
"I like Streak because it gives lots of flexibility in organizing projects and conversations. The feature I find especially useful is how it lists all the attachments from the grouped emails together below the email threads, so it is very easy to find documents and hard to miss attachments which sometimes happens when too many emails arrive at the same time".
— Jelena Popovic, Project Manager
Whiteboard

We use physical whiteboards that we update manually in the office to report on outcomes in our office.
The choice to do this has made a significant impact on the wider team. Its completely visible to everyone, and everyone is responsible for updating it. We also hold weekly 'huddles' where each department reports on the outcomes of their teams, discusses successes and challenges and how we plan to meet our targets for the next week and month. This way, the whole team gets a picture of what has happened and what the plan is for the future on a weekly basis.
If you're interested in our 'huddle' approach, this is part of our Great Game of Business Strategy. The Great Game model uses an open book management approach; a way of running a company that gets everyone focused on helping the business to be successful. It teaches all employees, from the top down, the goals of the company and how each team member can make a difference.
Limitations
You need to put in some arm work to update the whiteboard, but aside from that we at NeoMam think it is well worth it!
"I find that once something exists non digitally everyone takes a lot more notice. Every time you leave the office you can't help but see the KPI targets and figures, so it keeps it at the top of mind at all times "

— Danny Ashton, Founder
What's next for NeoMam's project management?
The next step for us is working on our scheduling system, so we have a very visible team schedule which is easy to use and flexible enough to change. We've chosen Float to help us on this journey, and I'll be sure to share our learnings and insights once this is fully up and running.
Tool Takeaways
Tools have the power to either make your life easy, or more complicated, depending on the tool you choose and the processes you use to implement it into your existing set-up.
With so many options available, choosing the right tool is a hectic task but here are some quick tips:
Start by defining your needs, think about the pain points of the current work system such as missing information, unnecessary tasks, complicated procedures, etc.
Don't waste your time trying tools just because they are popular, look for tools that can serve your business needs and are within your budget.
Gain information and take the time to sign up for free trials of the tools you are considering.
Test the tools against this simple rule and see if it holds true:

A great tool increases efficiency and decreases effort/time.
No matter what tool you choose, you'll realise that it itself has a learning curve, just give yourself enough time to get comfortable with it. And finally, never be afraid of testing your system with new things!
I'd love to hear from you in the comments – what tools do you find most helpful? What are the most important considerations when introducing a new tool to your team?
Find out more about our process here.