This week, Mark Schaefer wrote an awesome post about the problem of attempting to measure the effectiveness of content marketing, which is something I am sure many of us in the industry can relate to.
Mark states that content marketing should not be evaluated in the same way as direct advertising and that a far better analogy is that of networking events.
At your first networking event, you might meet a few people but are unlikely to convert any sales. However,over time, you will slowly make more connections, maybe even speak and over the years you start to build powerful relationships that begin to drive leads back to your business.
This is something similar to what has been spoken regularly at an event I attend called The Agency Collective headed by Spencer Gallagher. Spencer is always saying that the key to driving new business is all about making friends and helping them.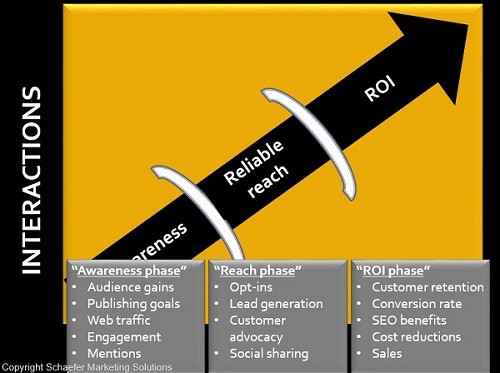 With Mark's model, you should evaluate content marketing by first measuring (in order):
1. Awareness
2. Connections
3. Relationships
Then finally, you move on to ROI stage which Mark says can take most companies 4, 5 or even more years to reach.
I think this process is excellent and really matches up with what we see with that of clients and our own content marketing campaigns.
One example I would like to give that best highlights the point is how I came across the brand of Mark Schaefer:
Earlier this year, I attended the SAScon conference in Manchester with our Head of Media Relations – Gisele Navarro. She then met someone who recommended a book to her, and told me about it.
This book was The Content Code by Mark Schaefer -someone I had never heard of (sorry Mark) but I trusted Gisele and so I read the book in an evening.
[Awareness]
It's an awesome book and was my first introduction to Mark. But it was only after seeing more of Mark's articles online that I started my first connection by following him on Twitter. Then I saw that Henneke Duistermaat had tweeted his latest article – Henneke being someone I respect both offline and online.
Can you measure how your content marketing pays off? http://t.co/gl14dsJYM5 via @markwschaefer

— HennekeDuistermaat (@HennekeD) September 14, 2015
[Connections]
I then read his post and it engaged me to go further up the interaction stage – with this blog post. Does that mean that I will hire Mark's services today? Probably not, but I would certainly now recommend him to anyone I know who is looking for what he provides.
I also feel as though I know him – even though we have never met in the "real" world.
[Relationships]
Applying this to NeoMam
Like most agencies who read Mark's post, the idea of getting clients to wait 4-5 years before they see a return is near to impossible. We are lucky that we do have 12 month retainers with our clients, but we also need to drive results slightly quicker and we do this through influencer marketing by piggybacking on the engaged audiences of existing publishers.
However, I do really want to look into how we can get better at providing reporting at each stage, as well as educating clients on how content marketing can work using the analogy of event networking versus comparing content marketing with advertising.
We already know that branded or overly promotional content performs poorly, but now the reason behind this is so much clearer.
You wouldn't approach a networking event and be overly promotional and unhelpful and so don't do it for content marketing. It naturally takes time and there are distinct stages to evaluate at each stage as you build awareness, connections and relationships. It's worth looking at things not do at networking events and check your not doing any of them in your content marketing campaign.
All in all it's just a matter of common sense. Keep in mind at all times that you might network and connect with 100's of people before you finally connect with 1-2 people you will do business with — the same can be applied to content marketing. You don't invest in producing quality content because you just want to get more links or push your sales figures for the month, even though you will eventually. You want to use content to engage with other people so they get to know you and trust you enough to interact with you more with the aim of building more relationships.