The good news is that the big newspaper you've been pitching stories to for months has finally decided to feature your content.
The bad news is that you didn't get a link. Yes, your brand was mentioned. Yes, the content was credited back to your client. But the sad truth is that your precious link is nowhere to be found.
If you build links primarily through content, you probably have felt the pain of an unlinked brand mention many times before.
At this point, most of us will move on and be grateful that at least they credited the content properly.
"That's okay, I'm sure more sites will pick it up and some of them might link back to our site."
"Well, we didn't get the link but this is will be great for brand awareness."
"It's all good, I read somewhere that brand mentions may have some impact on how Google evaluates website authority."
Here's the deal:
If you're reading this article, then chances are you're producing and promoting content with the one goal of getting links.
You don't do this thing day-in-day-out just to build brand awareness or in the hopes that perhaps that unlinked brand mention will trigger lots of links someday.
So don't give up so easily.
In this article, we'll put a twist to a quintessential link building technique to help you convert those brand mentions into links, and we'll discuss things you can do to minimise the chances of journalists sharing your content without linking back to your site.
Link reclamation for content marketing
Link reclamation is a link building technique that involves finding unlinked mentions (of your site or your brand name) on the web and turning them into links by reaching out to webmasters asking for a link to be added.
Much has been written about link reclamation as link building strategy in itself. There's less advice (if any) about the technique in combination with other offsite SEO efforts such as content marketing for links.
Here's the big idea:
Add a layer of link reclamation to your content marketing campaigns and you will maximise the number of links back to your site.
But before I show you how to do this, let me explain something:
Most large publications make their linking policies public, so I'd recommend that you read them.
If a publication has decided not to link to external sites at all, then there is nothing you can do to get that link.
That's why you need to make sure you're aware of linking policies before you pitch content/stories with the goal of building links.
That being said, most online publications will allow external links: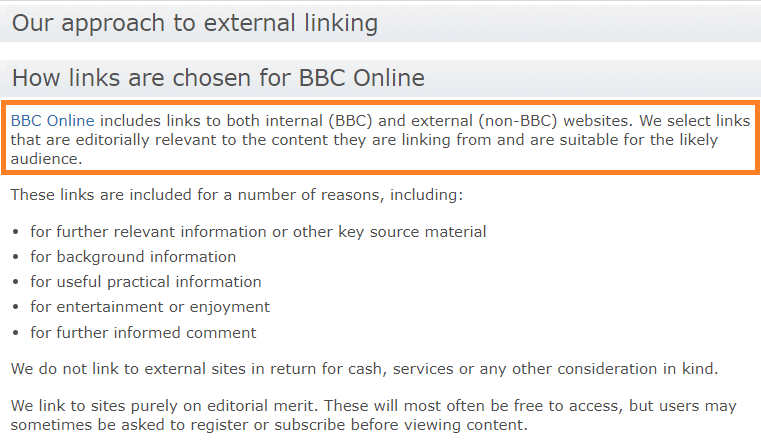 4 tips for getting those unlinked brand mentions fixed
Giving up is not a choice when you know how to get unlinked brand mentions fixed. Follow the process below to kick-start your link reclamation campaign.
1. Monitor your open campaigns to spot unlinked brand mentions as quick as possible
Whether you use tools like Buzzsumo and Ahrefs or have set up Google Alerts, step number one will be to find the articles that feature your content, mention your brand but don't link to your site.
I won't go into a lot of detail about how you can use these tools because they are all pretty straightforward: Pick your favourite tool, setup alerts for your brand name/site URL and customise how often you want to receive notifications. Easy peasy.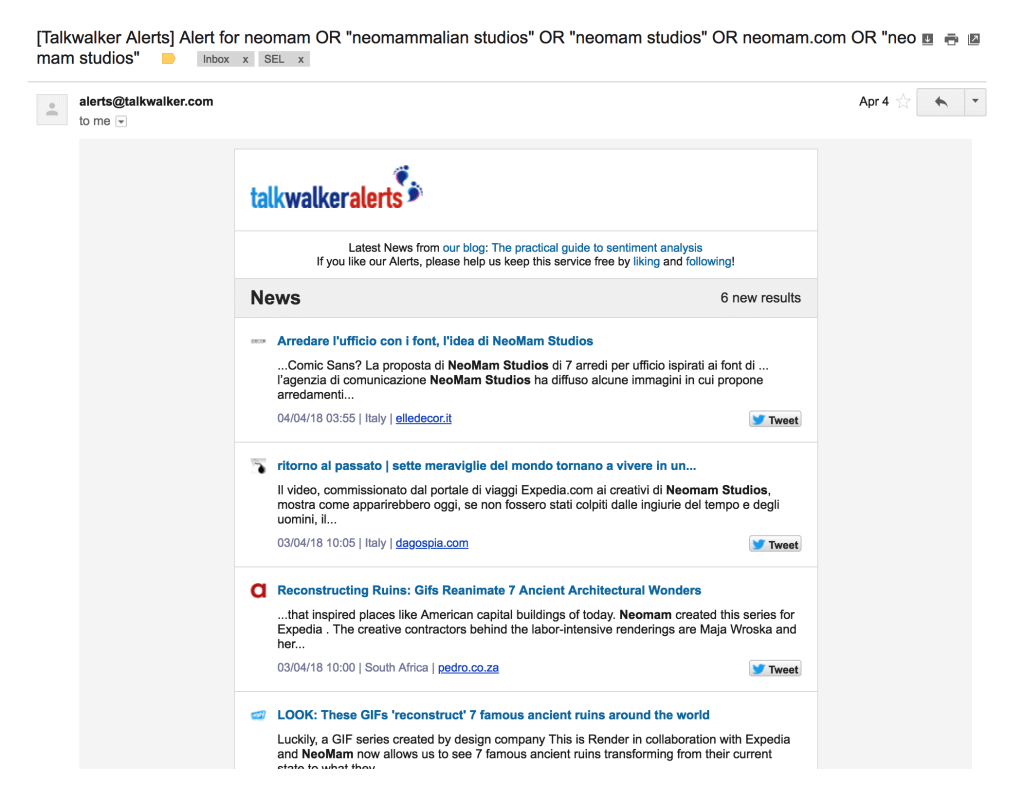 The big tip here is to stay on top of your open campaigns so you can spot those unlinked brand mentions as soon as possible. You want to get that link added before other sites start picking up the content and sharing it without linking back to your site.
2. Always give the writer a chance to add a link before escalating
Getting that link will be great but you know what would be even better? Getting the link while building a relationship with a writer you can pitch content to in the future.
Right now you don't know why the journalist didn't add a link when writing up her story. It could be that she didn't know who to link to. It could be that she completely missed it. Give her the chance to add the link before you reach out to her editor.
This is your chance to build a relationship with this journalist.
If it's someone you pitched the content to, then following up will be quite straightforward: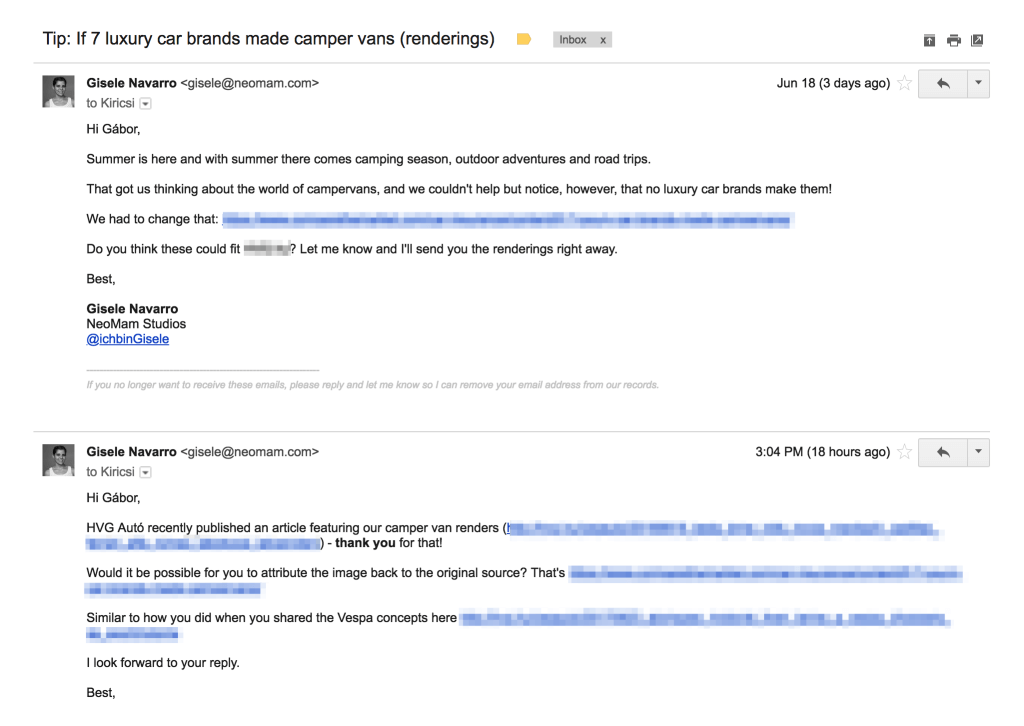 If it's someone that has picked up your content organically, then find her contact details and get in touch with her directly.
An email would be glorious: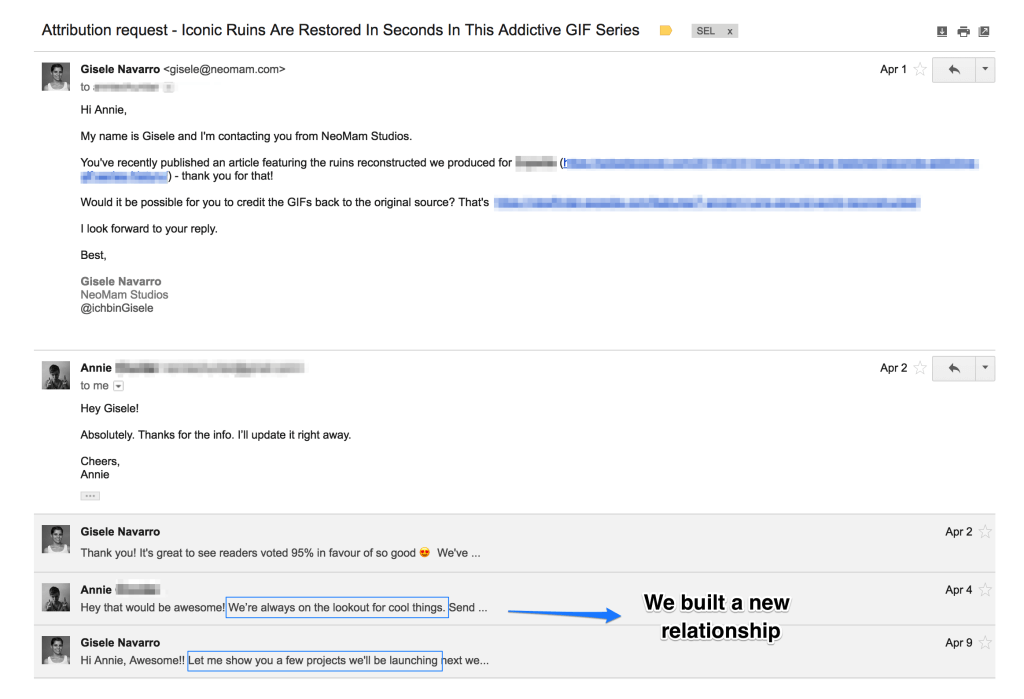 But LinkedIn can also work: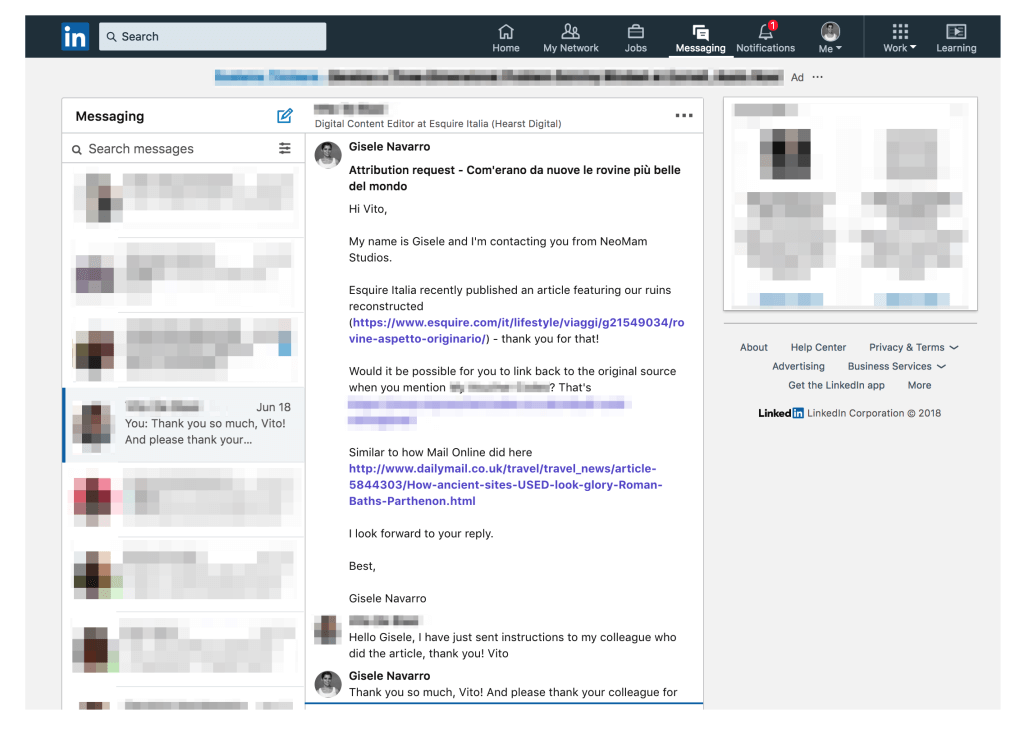 Or even Twitter will do the trick: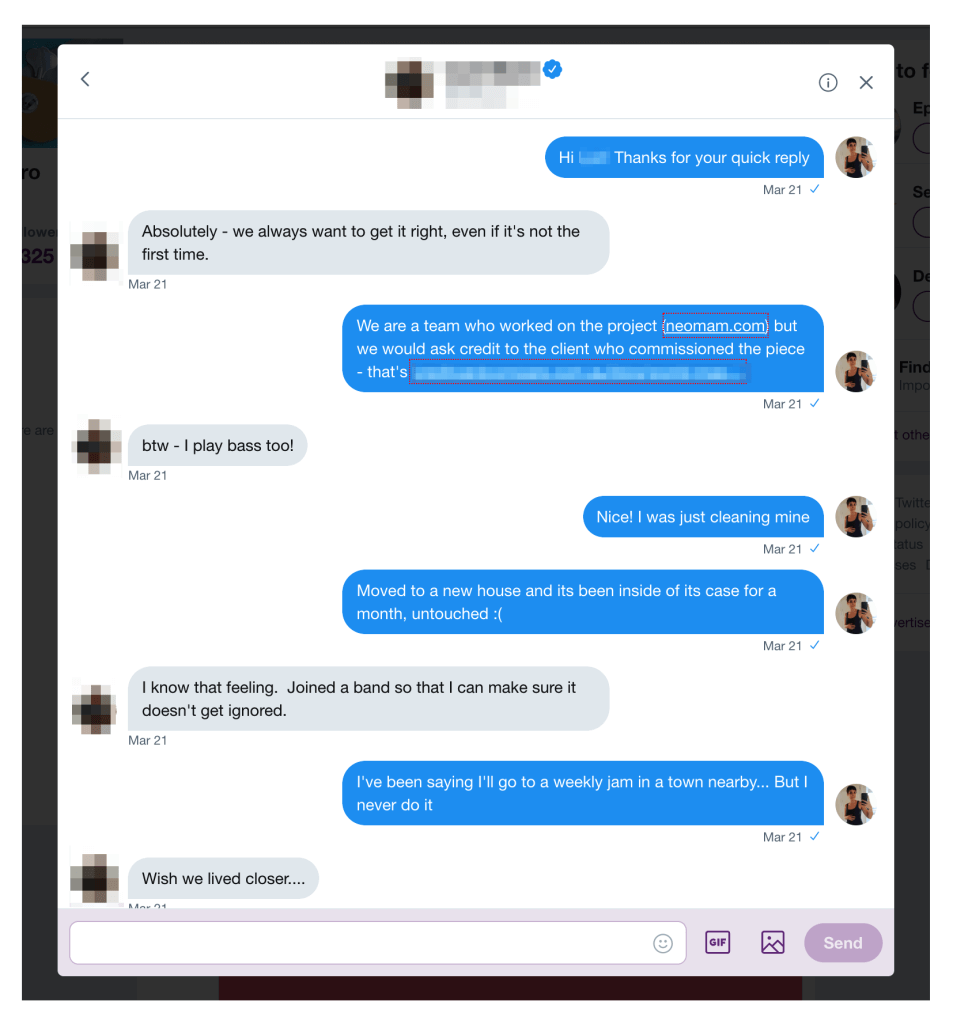 When writing your email, make sure to:
Use the title of her article in the subject line

, so she knows what the email is about

Say thanks

– she didn't need to share your content but she did so don't forget that

Be clear

about where you want her to link

Show an example of a publisher linking out correctly

if possible to reiterate what you are asking for whilst making a point that other media sites have credited with a link
3. If no reply, contact the editor of the section where the content was published
If the journalist is not replying to your email, you should try approaching the editor that oversees the section where that article was published.
Is it a travel article? Find the travel editor: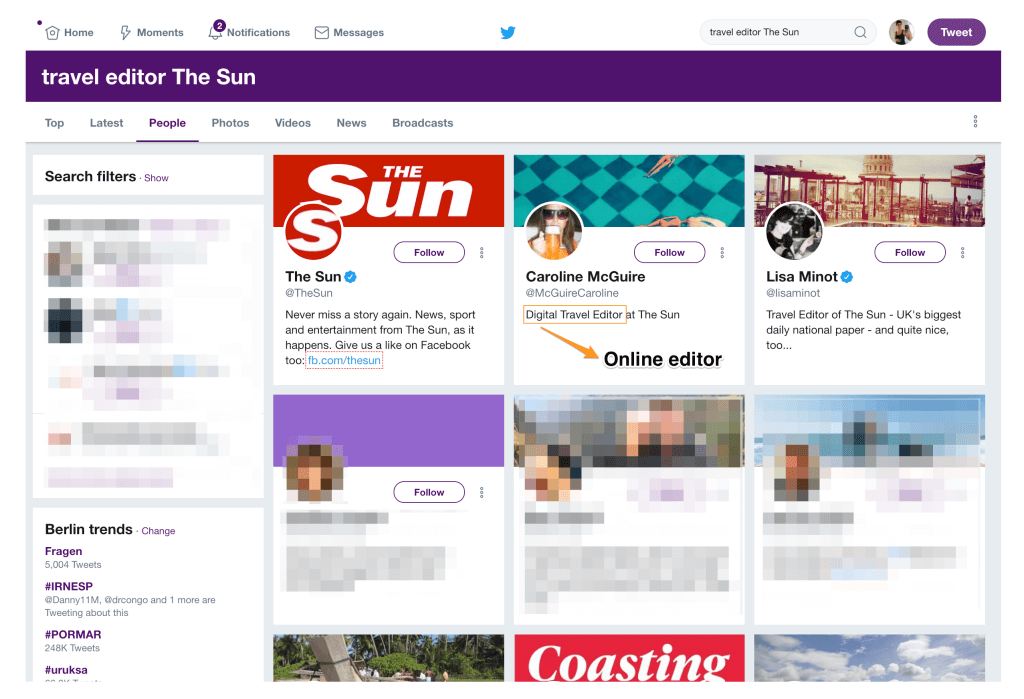 Is it a health piece? Get a hold of the health editor: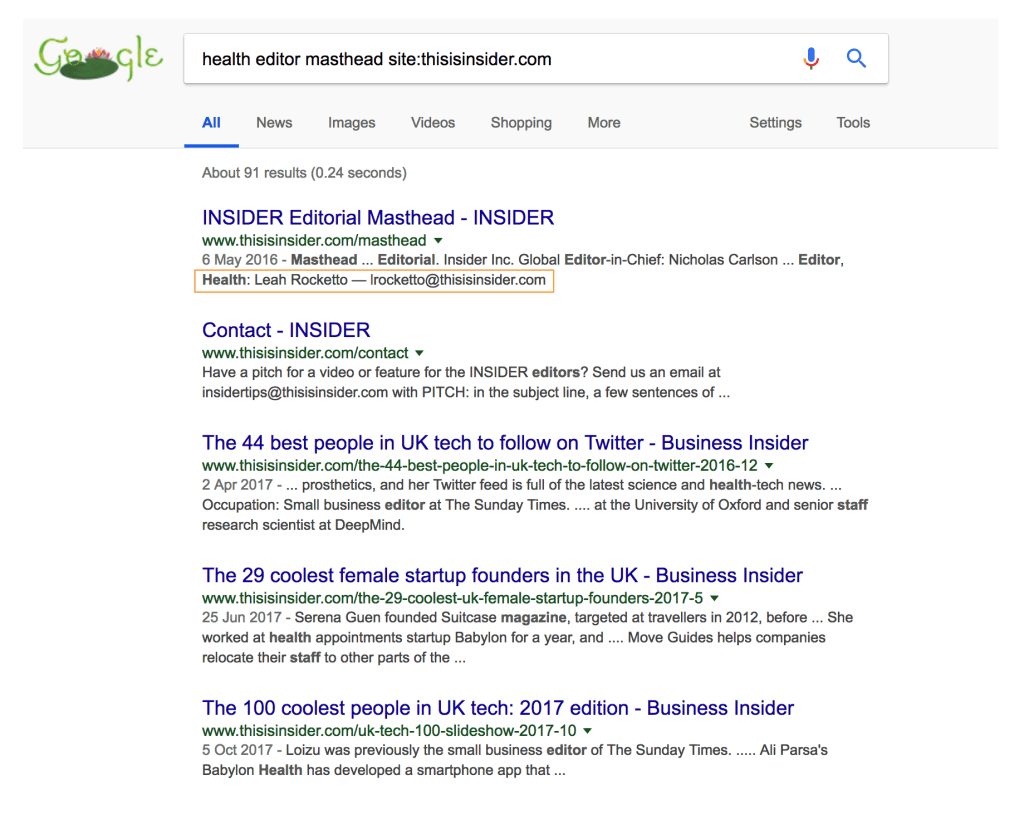 Can't find a specific editor? Go with the web editor: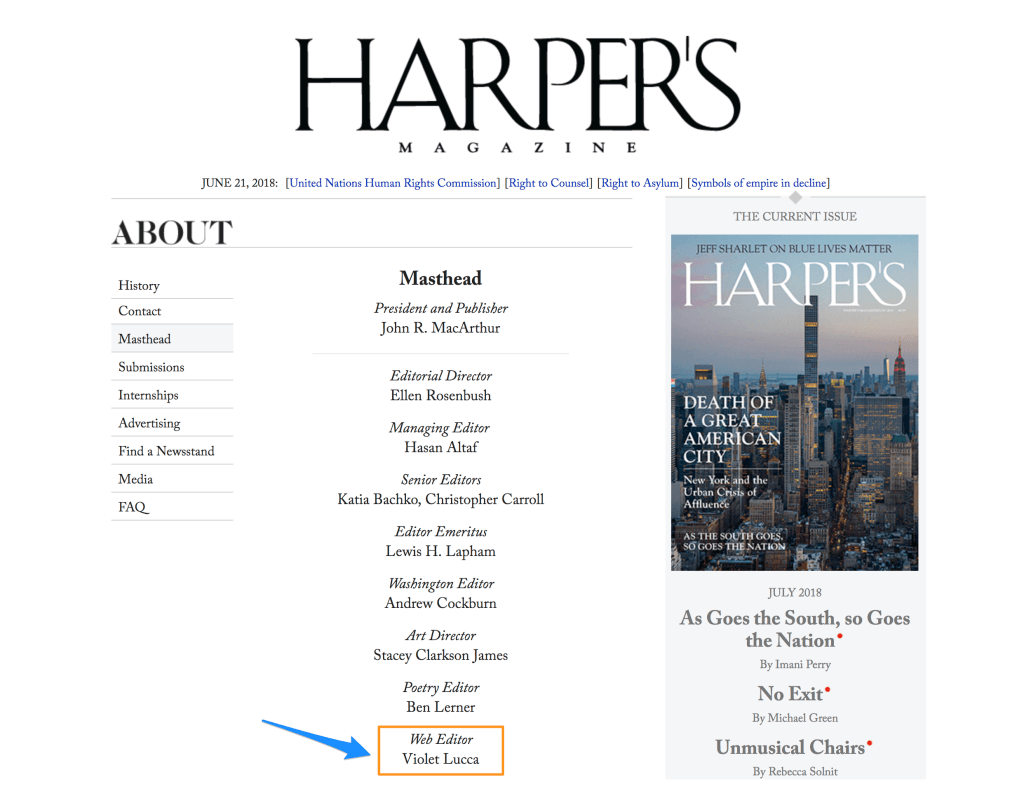 4. If the editor doesn't reply to your email, find a corrections or copyright email you can contact
Most online newspapers have a "corrections" email address and the majority of digital media sites make available a "copyright" contact – use them when everything else failed: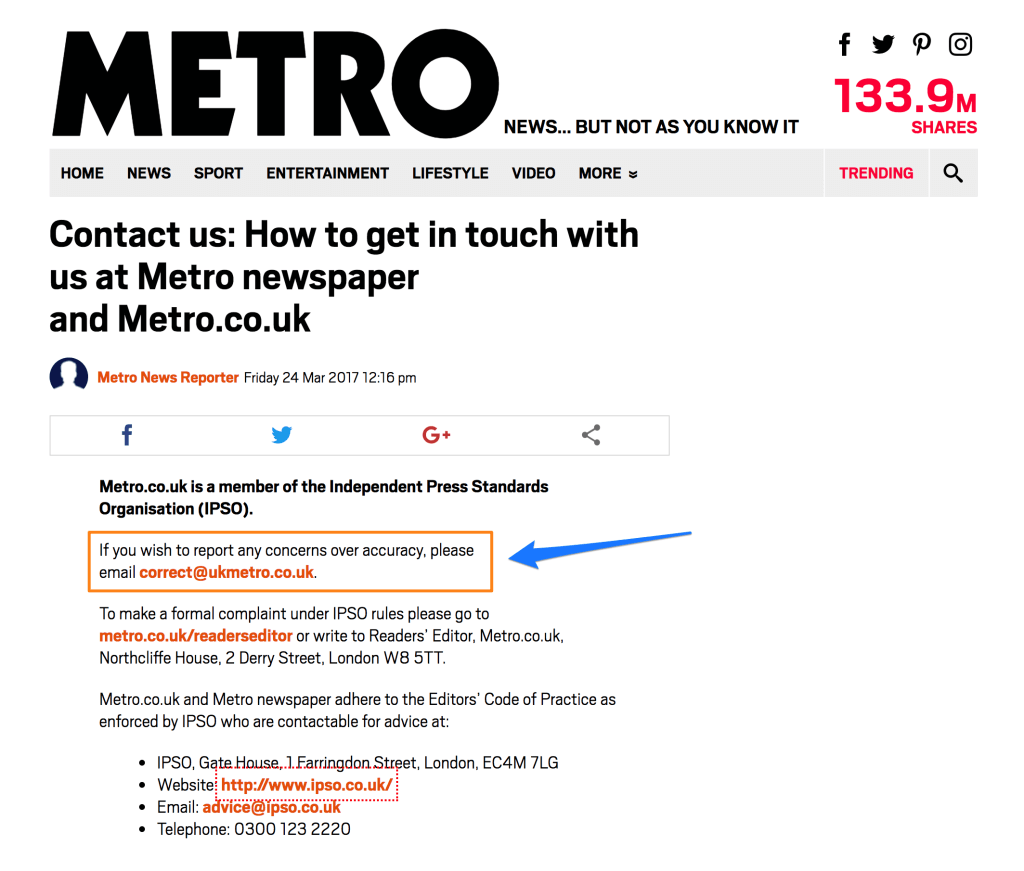 In many cases you'll find this info inside of the Terms of Service page: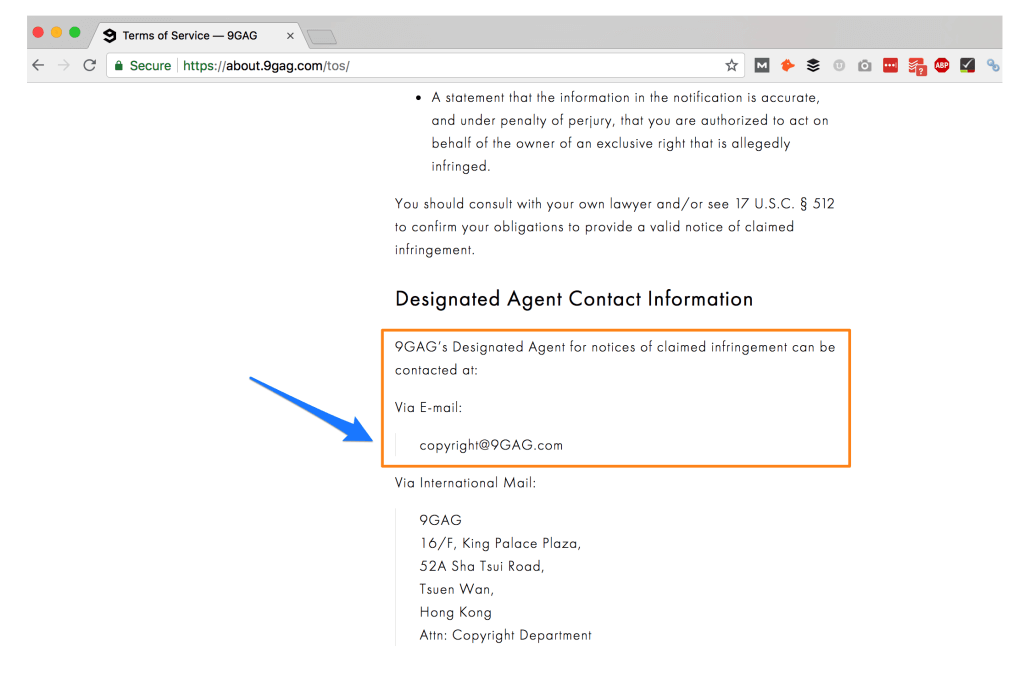 Once you've found the email address you'll go with, send a clear email requesting that link to be added: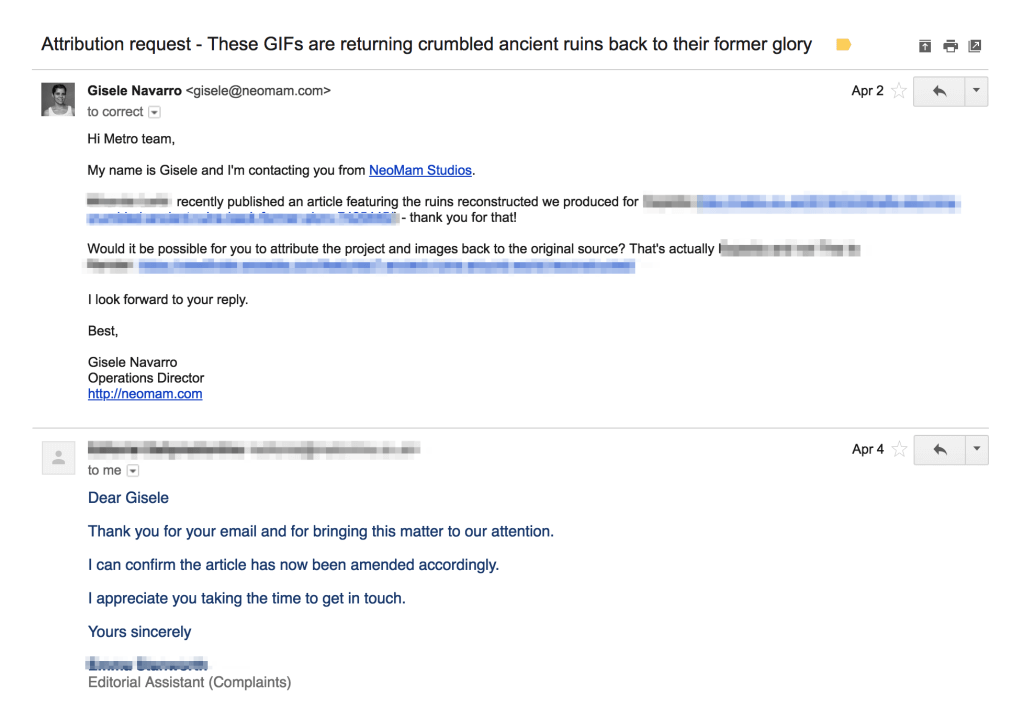 Why don't skip all previous steps and simply email the "copyright" or "corrections" contact directly, you ask?
Because we want to get in touch with an editorial team member so we can build a relationship. You can't pitch content to a lawyer nor to a fact-checker.
What to do if the answer is 'no'
At any point throughout this process, you might get a negative response to your request.
Sadly, there is no magic email template that will change company policy or journalist/editor preference when it comes to linking out to external sites.
In those cases, you need to take 'no' as your answer and make sure that there is a brand mention within the story: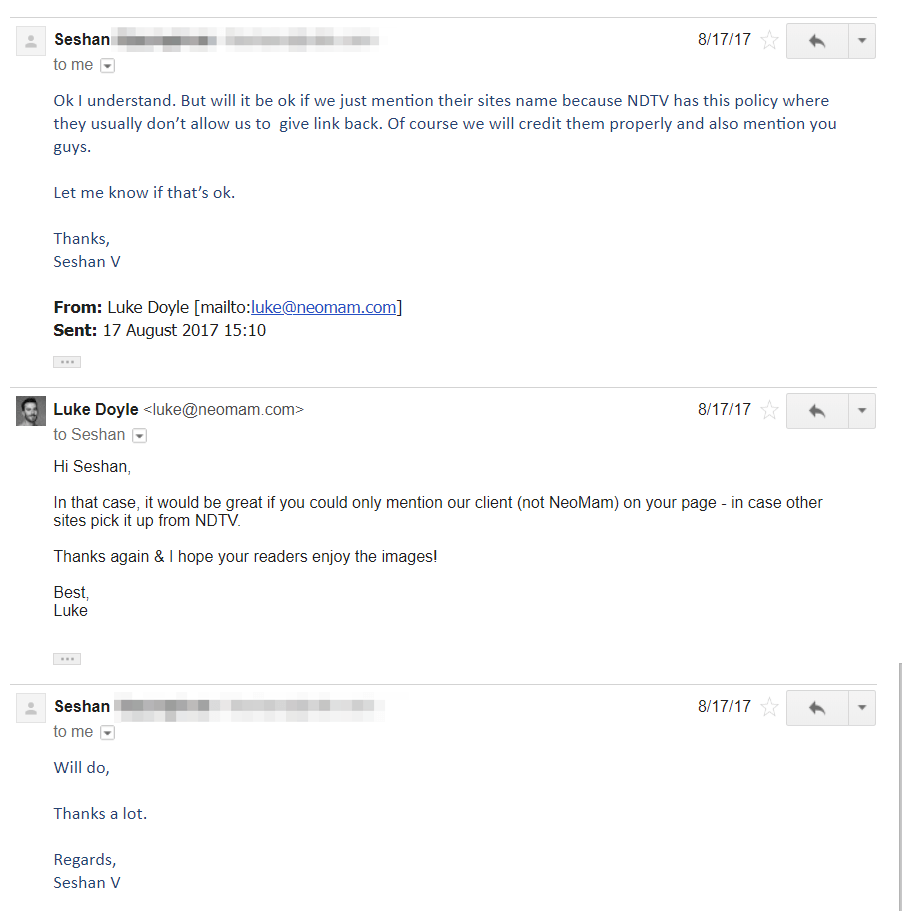 If the journalist gave you a clear 'no', do not go over his head to contact the editor. Don't be that person.
Outside of the fact that it's the decent thing to do, you should also remember that there's a relationship at stake: Journalists and editors move jobs (just like you) and in the future, they might land on a publication that does allow external links.
How to minimise the chances of journalists not linking back to your site when sharing your content
Chasing down links is a time consuming activity. By taking a few small steps you can increase your odds of getting a link with the pitch, rather than having to chase it up afterwards
1. Mark your content with a Creative Commons license
A Creative Commons (CC) license helps you to retain copyright while allowing others to copy, distribute and make use of your content, all while ensuring that you will be credited appropriately.
Most journalists will quickly recognise a Creative Commons license when they see one. It is a simple system that makes attribution requirements clear at first sight. On top of that, a CC license is a great thing to reference when you're doing link reclamation.
In order to mark your content with a CC license, just visit the Creative Commons wiki and follow their step by step process.
Here's an example of the CC license being added to the footer of an image: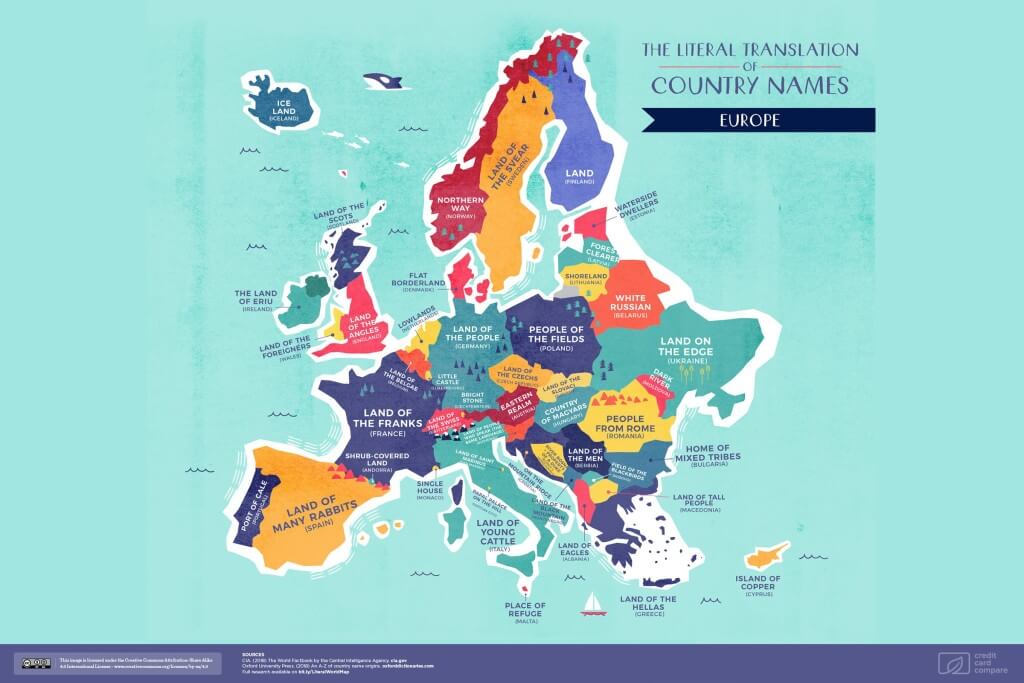 There's multiple CC licenses to pick from depending on what you want to allow others to do with your content. The one my team uses is Creative Commons License 4.0 International, which states that publishers can share and/or adapt the material as long as they credit the creator with a link back to the material.
That's the reason why you don't see me asking for homepage links in the link reclamation emails I'm sharing here: We ask for a link to the original source of the material as per the CC license, and that's the page where the content has been published.
It's a great resource to have up your sleeve for those situations when no-one is replying to your link reclamation emails: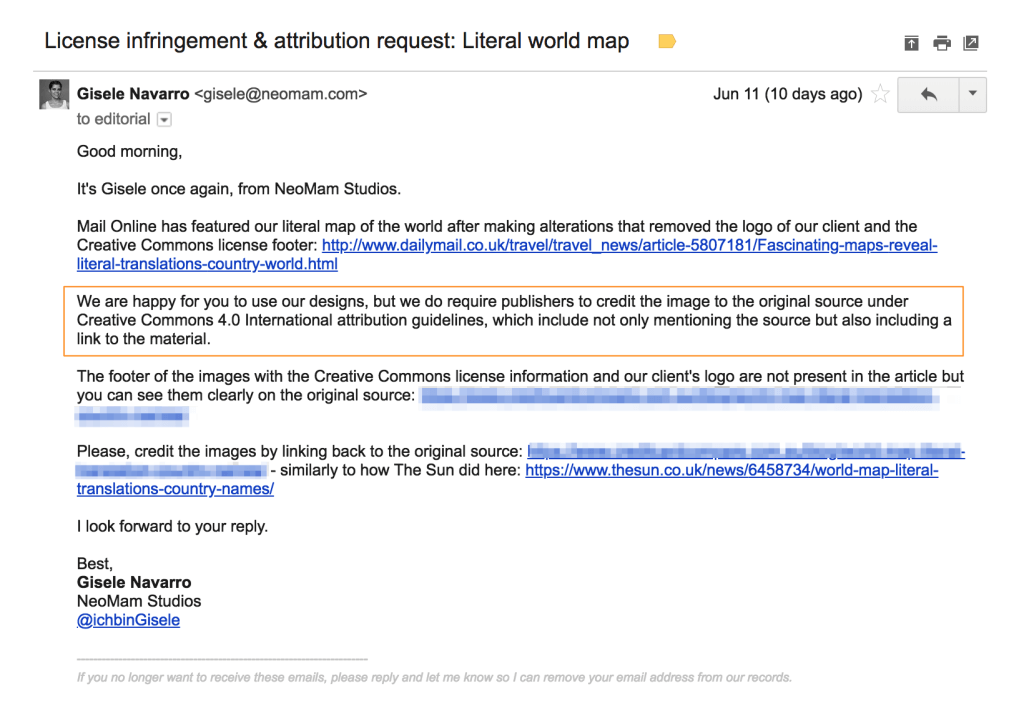 In this case they didn't reply to my email but they certainly opened it and shared it around the office: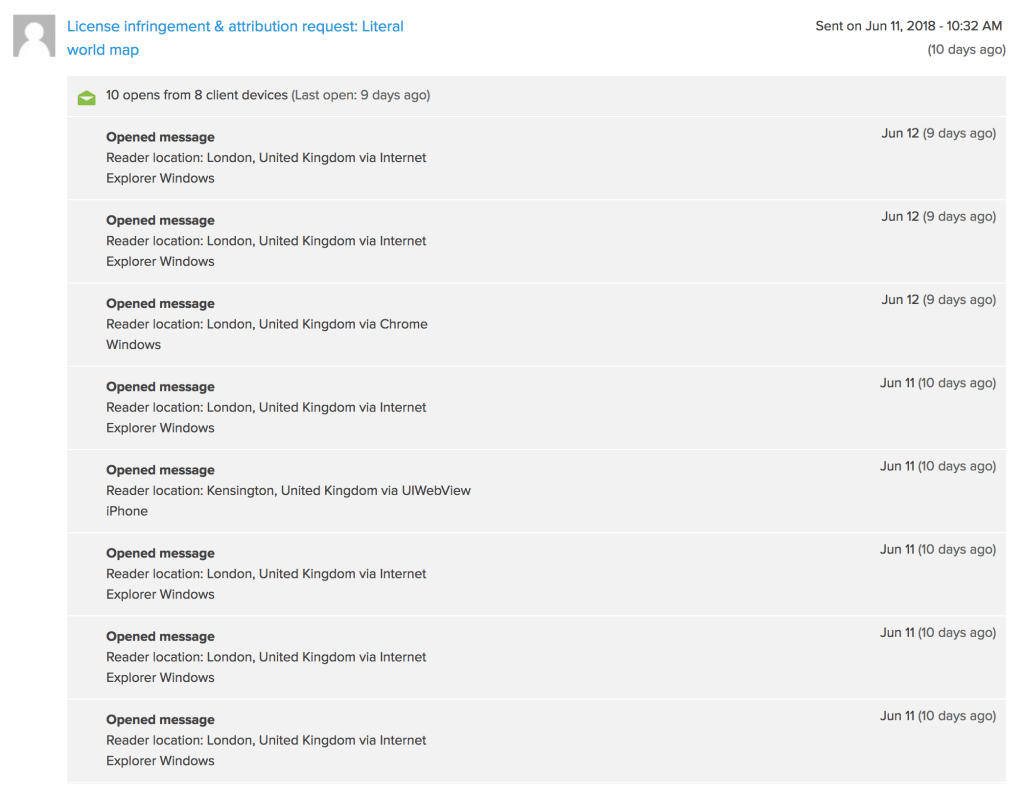 The link was added within a day.
2. Add a friendly note on the landing page asking for a link
This is something that won't take lots of effort but can make a difference.
In many cases journalists don't know who to credit (nor how to do it) so why don't make that information crystal clear on the landing page?

3. When sending files to a journalist, make it clear that they have to credit with a link
Don't be afraid to be explicit about how you want the content to be credited: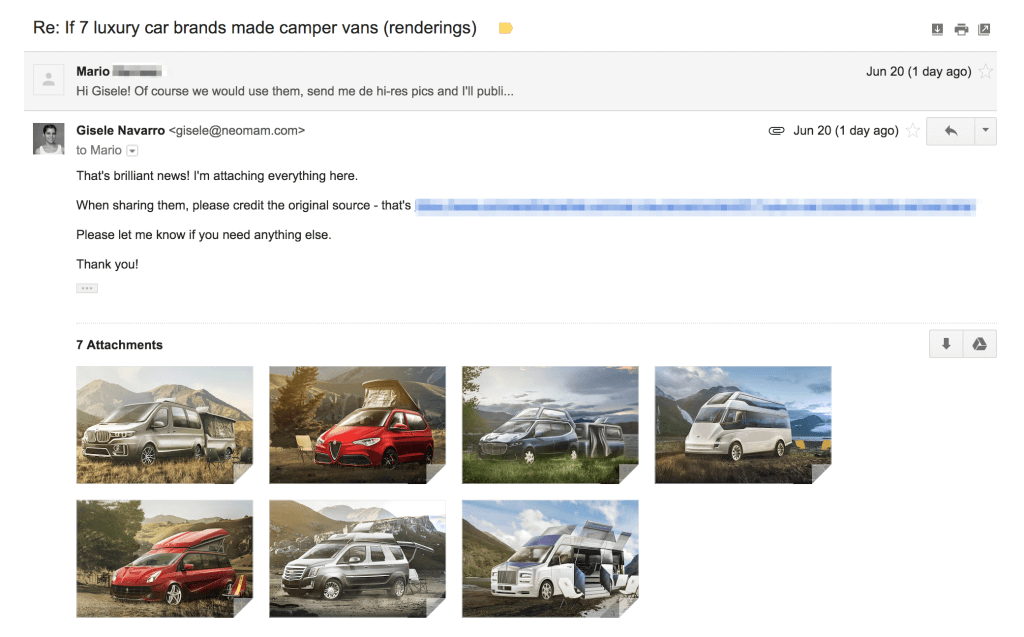 Unlinked brand mentions no more
Link reclamation is a solid technique that will power up your link building efforts when working with content.
Next time you realise that a big name media site has shared your content without linking back to your site, get in touch with the writer as soon as possible to ask for a link – and remember, this journalist could be your next great contact for another piece of content.
Make sure the landing page for your next content campaign is promotion-ready by adding a Fair Use legend and Creative Commons license info. This will not only minimise the chances of features without links but it will also give you a tool to use in your link reclamation emails.
Now, go get some links!