Happy new year to everyone.
Before the end of last year I reached out to a number of in-house SEO's who I thought were doing some really interesting things with content during 2017.
At NeoMam, most of our clients are in-house SEO teams and I am always impressed with the work they do.
Unfortunately, you rarely read about them on industry sites.
It makes sense, though, as there is far less of an incentive to share this type of work when you are in-house because you don't need to win clients like agencies do.
I hope that this post and future ones can help to highlight some of the great work being produced by in-house teams around the world and provide some inspiration for your content marketing plans this year.

Just to be clear, none of these are active clients with NeoMam 🙂
1. How To Hygge: Embrace The Cosy Danish Concept (by Amara)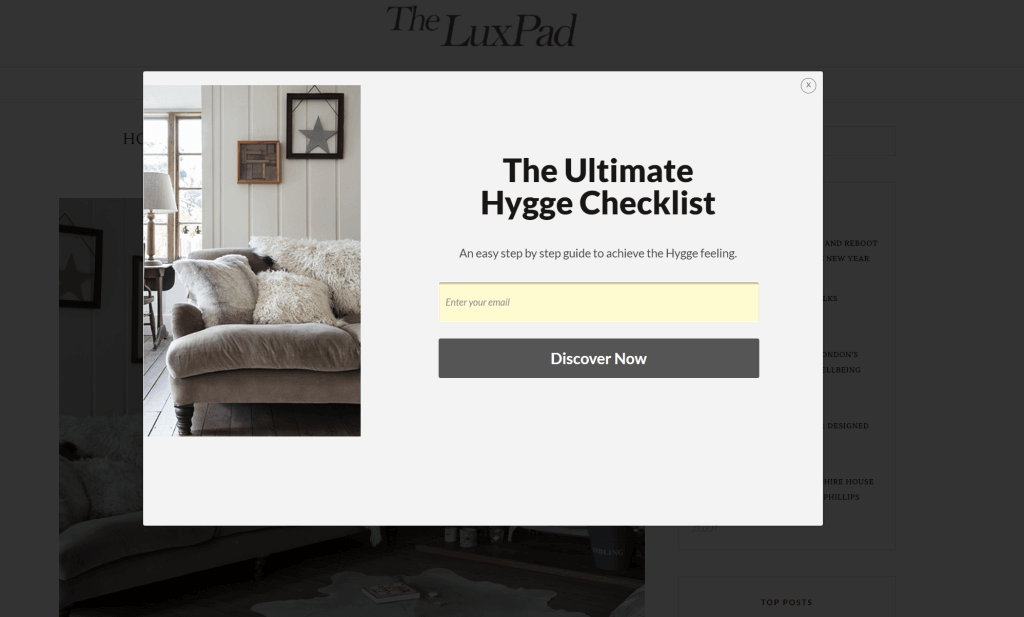 Over at Amara, the team produced a super detailed blog post about Hygge and had 10 examples that people can try in their home. What stuck out to me was the use of a relevant content giveaway for an extra piece of content – The Ultimate Hygee Checklist – in exchange for an email address.
Combining relevant content giveaways is a great way to get email addresses from your content audience that can be used to promote relevant content in future.
It's certainly not a totally unique idea but I have rarely seen it used by ecommerce brands in such an effective way.
I managed to get a few minutes with Freddie Chatt the product strategist over at Amara who helped me by answering a few questions about the project: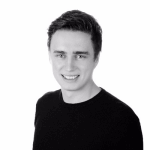 – How did you come up with the original idea?
"One of our awesome content writers, Emily, had seen the start of quite a lot of discussion of Hygge within the UK. So after performing some initial research into the concept and what it entails, it was a clear opportunity for us to create a piece of content on it. She researched thoroughly to create the article on the ins and outs and tips on how to achieve it in the home – so she gave the topic an angle that is 100% suitable for our brand."
– What challenges did you face during the production of this piece of content?
"At the initial time of creating the content, there wasn't the depth of information there is today about Hygge, particularly in the UK market. So there was a lot of extra research required, which included reaching out to Visit Denmark amongst other avenues to ensure the information portrayed correctly and effectively presented to our readers."
– If you could go back in time and do something different, what would it be?
"We missed a trick when we first launched the content because we didn't have a content upgrade to convert visitors into email subscribers. We re-launched the content about 6 months after it first went live and this time added a checklist to be downloaded by visitors landing on the page.
While we missed out on a lot of opportunity when it first went live, we have still picked up a lot of email subscribers as a result of adding the downloadable checklist – which has converted at almost 10% since launching it."
– What was the main goal of the project? (e.g. attracting links, social media shares, brand awareness, etc.) And how did you measure the results?
"The original goal of the content was to inspire our existing customers and readers of The LuxPad. However, upon realising the potential to capitalise on a fast growing trend, we doubled down on the promotion, with a focus on outreach and social media – this resulted in over 18,000 social shares and over 100 referring domains."
– What content types are you keen to experiment with in 2018?
"After many years of talking about it and very late to the party, we're planning on experimenting with more video content in 2018 – both from an engagement perspective and a link acquisition side."
2. The History of Money: From Barter to Bitcoin (by Western Union)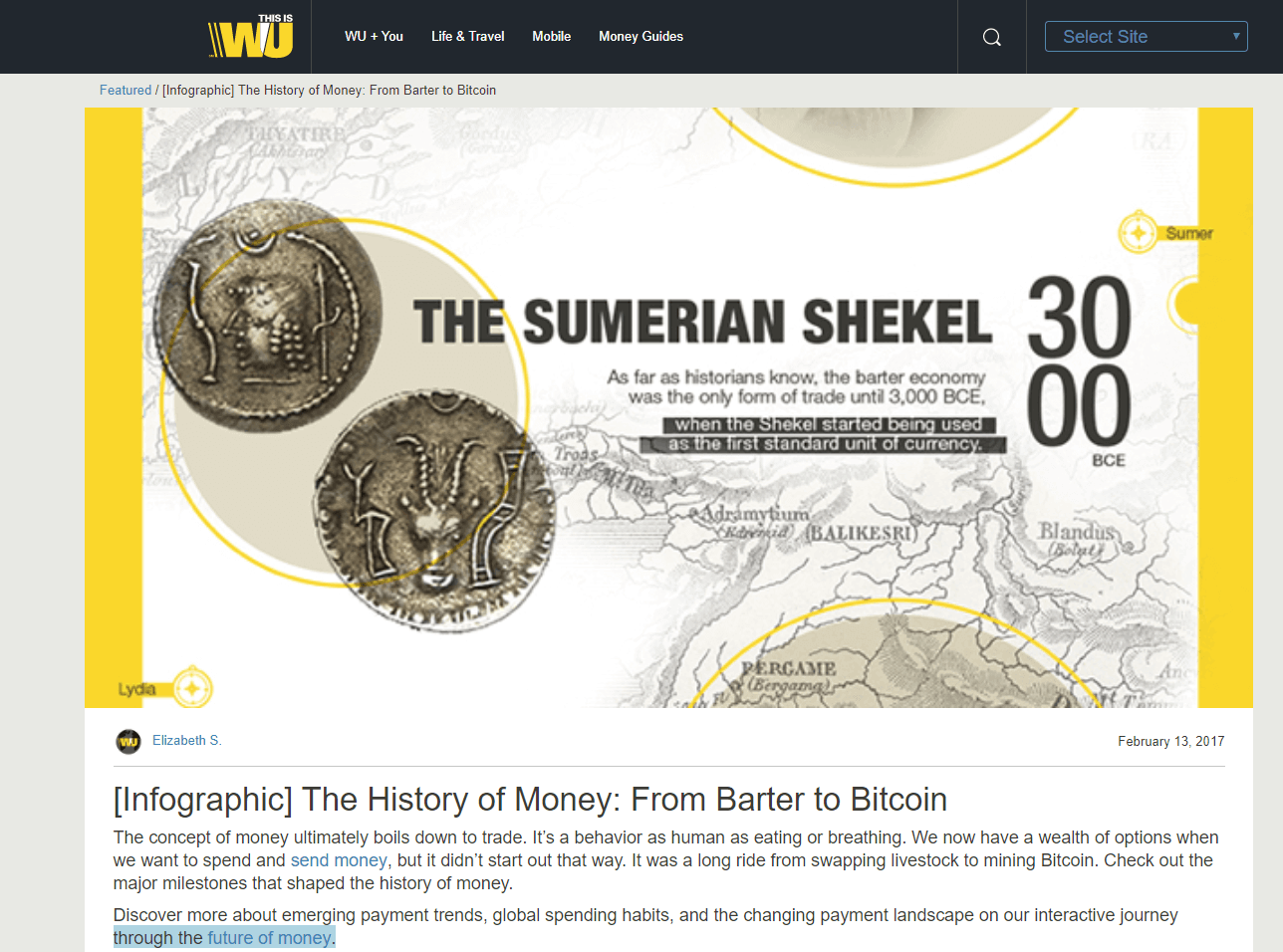 The team at Western Union showed us a great way to use the simple infographic format with their history of money from barter to Bitcoin.
This is a great example of a very brand topic done well with relevant research with simple but effective design.
I reached out to Stefan Zechner who is the Sr Global Marketing Manager to ask him a little more about the project: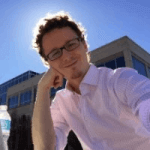 – How did you come up with the idea?
"Believe it or not, actually classic keyword research. Plus a little bit of digging in customer queries, feedback and survey answers where we found out, that people are not only interested in what is to come but also what was and how we've gotten to this point of development."
– What challenges did you face during the production of the content?
"Bringing such a – what might be considered – almost boring, non-engaging topic in a setting that is not just beautiful to look at but also educates and informs. On top of that, one could write whole books about the evolution and history of money; bringing this down to a one-pager and not skimming on the important parts of it was a hassle and took us a long time."
– If you could go back in time and do something different, what would it be?
"Technically build the page in a lighter format and better integrate (read: link) it into the overall ecosystem we've been trying to build with our Currency at a Crossroads page: https://www.westernunion.com/blog/currency-at-crossroads/"
– What was the main goal of the project? And how did you measure the results?
"Our goal first and foremost, was to create visibility for westernunion.com in an area we've had none before while being useful and providing added value to our consumers. KPIs from new kw rankings, kw rankings increased, natural search traffic and attracting links back to our pages. We took external tools such as Buzzsumo, BrightEdge, GSC and others to measure these goals.
Social shares were a positive side effect, but we did not have a KPI tied to it; they just happened, naturally."
– What content types are you keen to experiment with in 2018?
"Micro-environment type content as well as more influencer content; i.e. content written with and for consumers."
3. USA Road Trip Planner (by American Holidays)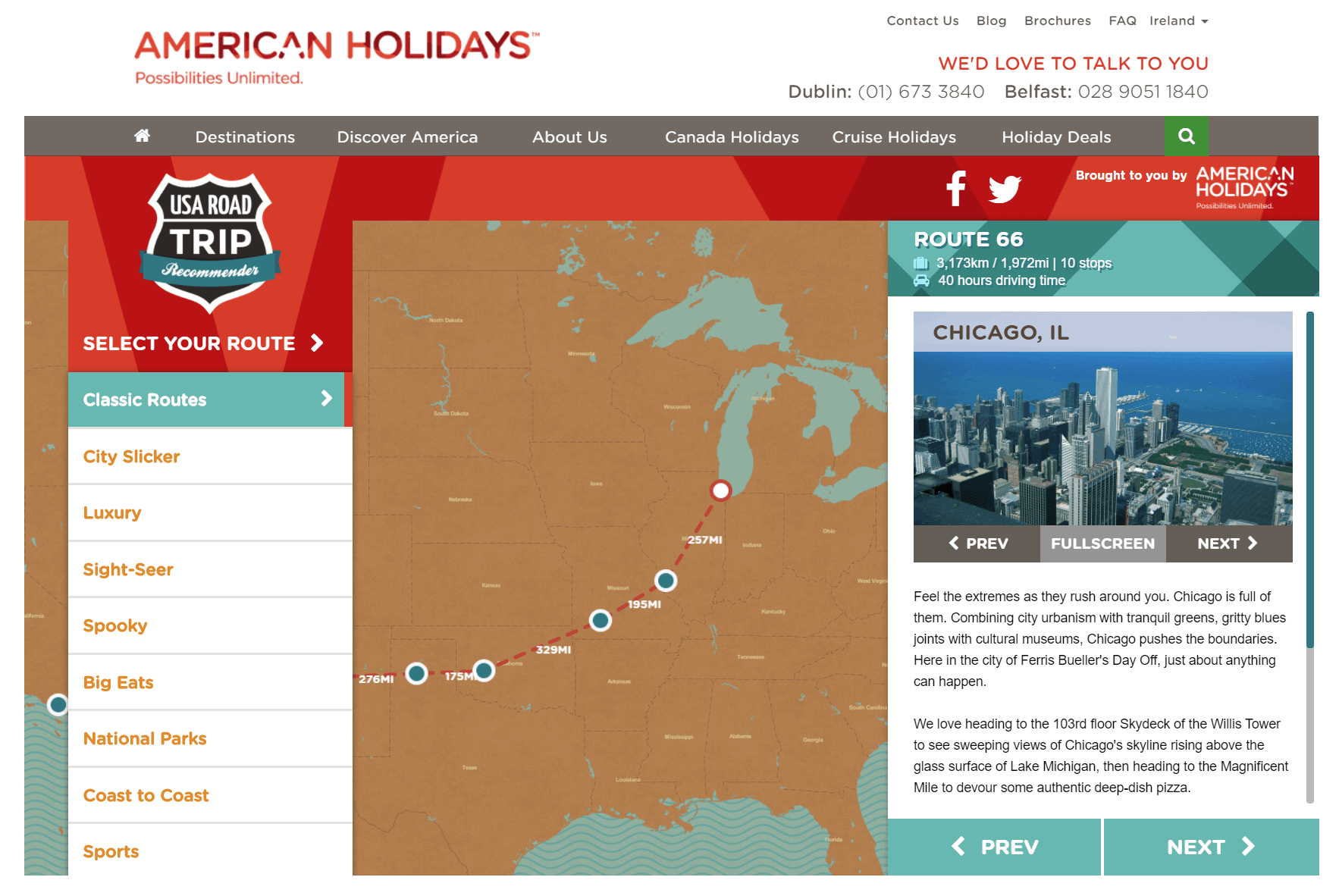 The team at American Holidays have put together a great looking interactive tool that provides road trip plans for a number of different routes and locations across the United States.
Unlike a lot of interactive content, this runs super smooth and feels like a part of their website. Similarly to what happened at NeoMam with our 13 reasons interactive, I'm sure it helps with converting their audience to potential customers.
I reached out to Mark Cronin who is the Head of SEO for Travelopia of which American Holidays is one of their brands.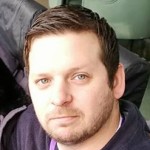 "As part of our content marketing campaigns across the group in general, we as an internal team sit down together and brainstorm a selection of ideas that we think might be of interest to our users; and how we might be able to extend and be more attractive to a larger audience. This usually involves building several campaigns around 1 single idea."
– What challenges did you face during the production?
"There weren't too many, some of the more obvious ones were the actual development of the work. In-house it can be difficult to find the resource to build something like this, so we outsourced the production of this piece to an agency and they were able to facilitate production of this piece quickly and effectively. Initially, the piece was built for another one of our brands, but it works more synonymously with American Holidays."
– If you could go back in time and do something different, what would it be?
"I would have liked to spend more time on Data Capture. The Road Trip Recommender doesn't require much information from outside of the business to be built, but if you want to create something that appeals to people, you need to get as much information as you can from surveys, etc. This is the information that allows you to build a story around your content campaign, and therefore an angle for outreach."
– What was the main goal of the project? And how did you measure the results?
"There were 2 main objectives: One was a brand building campaign (build something for people to use on site) and the other was to attract links. One of the problems American Holidays faced was improving its backlink profile. When we took the site on, it was easy to spot where we could quickly improve performance, but as with all of our work we don't build anything with the sole goal of achieving backlinks. The piece actually helps to drive sales as well as producing an interactive experience for users."
– What content types are you keen to experiment with in 2018?
"Anything interactive. Specifically in the travel industry, there is a lot of fun to be had with VR. Building tools online has been a bit of a staple of ours for a while, and I think there is still a lot of opportunity to improve on this too. "
4. Admiral Insurance – UK's Best and Worst Drivers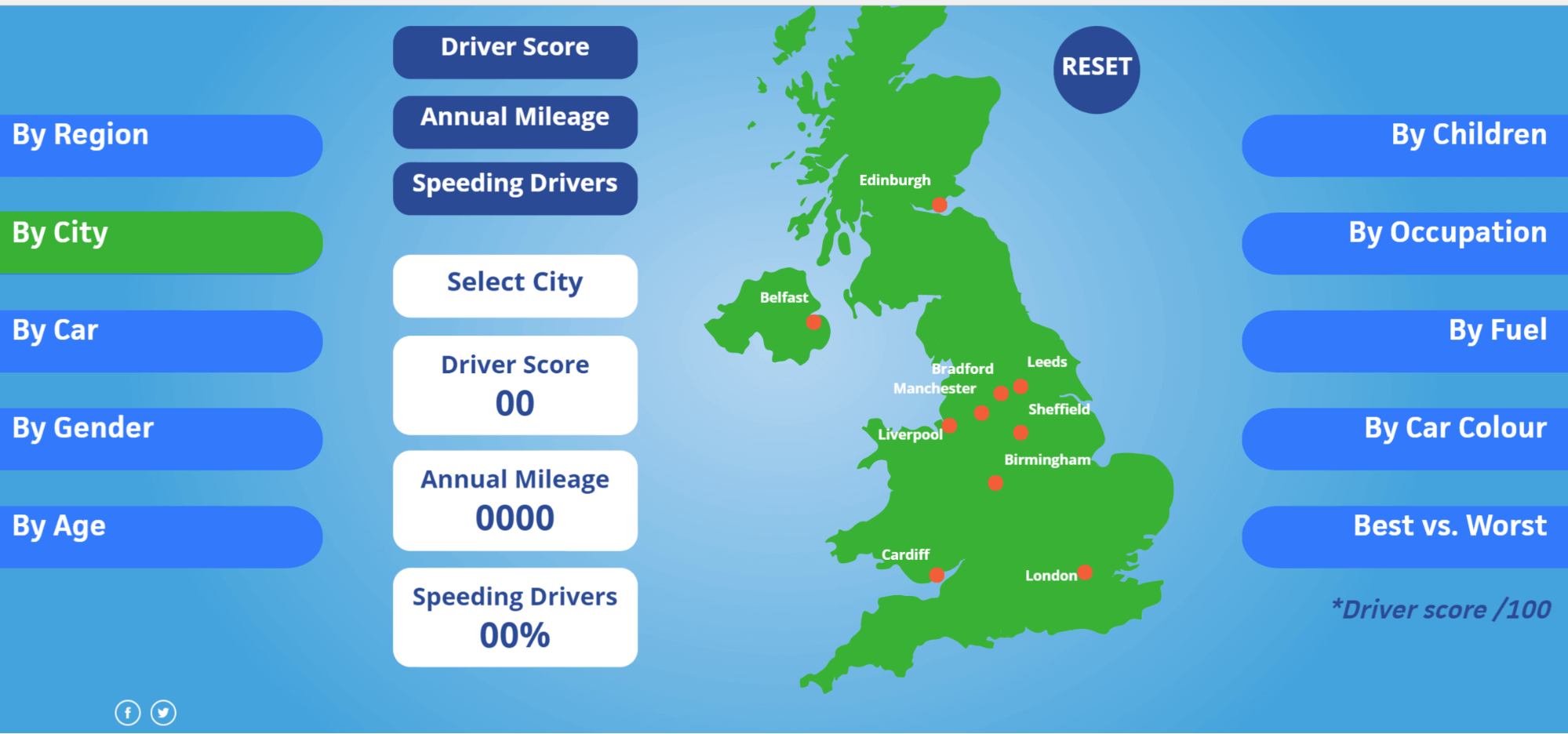 The guys at Admiral are doing a lot of great content but I really like this interactive, which uses their own data to create something totally unique.
Most agencies dream of being told that the client has unique data they can use but in most cases there are far too many internal hoops to jump through to actually utilise it.
As discussed in a previous post about in-house SEO vs agency SEO, the big benefit of an in-house team is getting buy in throughout the business.
In order to create this interactive, the Admiral team decided to use data from their black box system to create something truly linkable.
I managed to speak to Jos Davies. He is the search marketing manager over at Admiral to learn more about the campaign: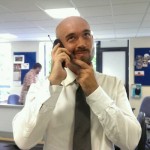 – How did you come up with this idea?
"We regularly have brainstorm sessions internally and we were already aware of the data being available so it just came up as part of the discussions. We knew how powerful this data could be and it was just a matter of time before we came up with an idea to utilise it."
– What challenges did you face during the production?
"We had to ask for permission to use the data a few months before we planned to implement but we knew this would be the case and planned accordingly. The production went quite smoothly as we used a local agency for the design and build. Overall this project was pretty simple to implement."
– If you could go back in time and do something different, what would it be?
"Looking at it now, I would have liked to use a better framework, something similar to what we did with a recent interactive we produced 'What does your car say about you?' But it's always the case that you can make improvements, especially when you are creating new content on a regular basis."
– What was the main goal of the project? And how did you measure the results?
"The key aim for this content was backlinks, although for other campaigns we have also pushed the content with social. We were really happy with the amount of links this piece provided but one thing that really stuck out was how much traffic came through these links."
– What content types are you keen to experiment with in 2018?
"We have something really cool coming out that will have a less PR angle and is something that we will promote with influencer outreach. I can't say more than that but we are really excited to see how that works."
5. Wimdu – Game of Thrones Holiday Destinations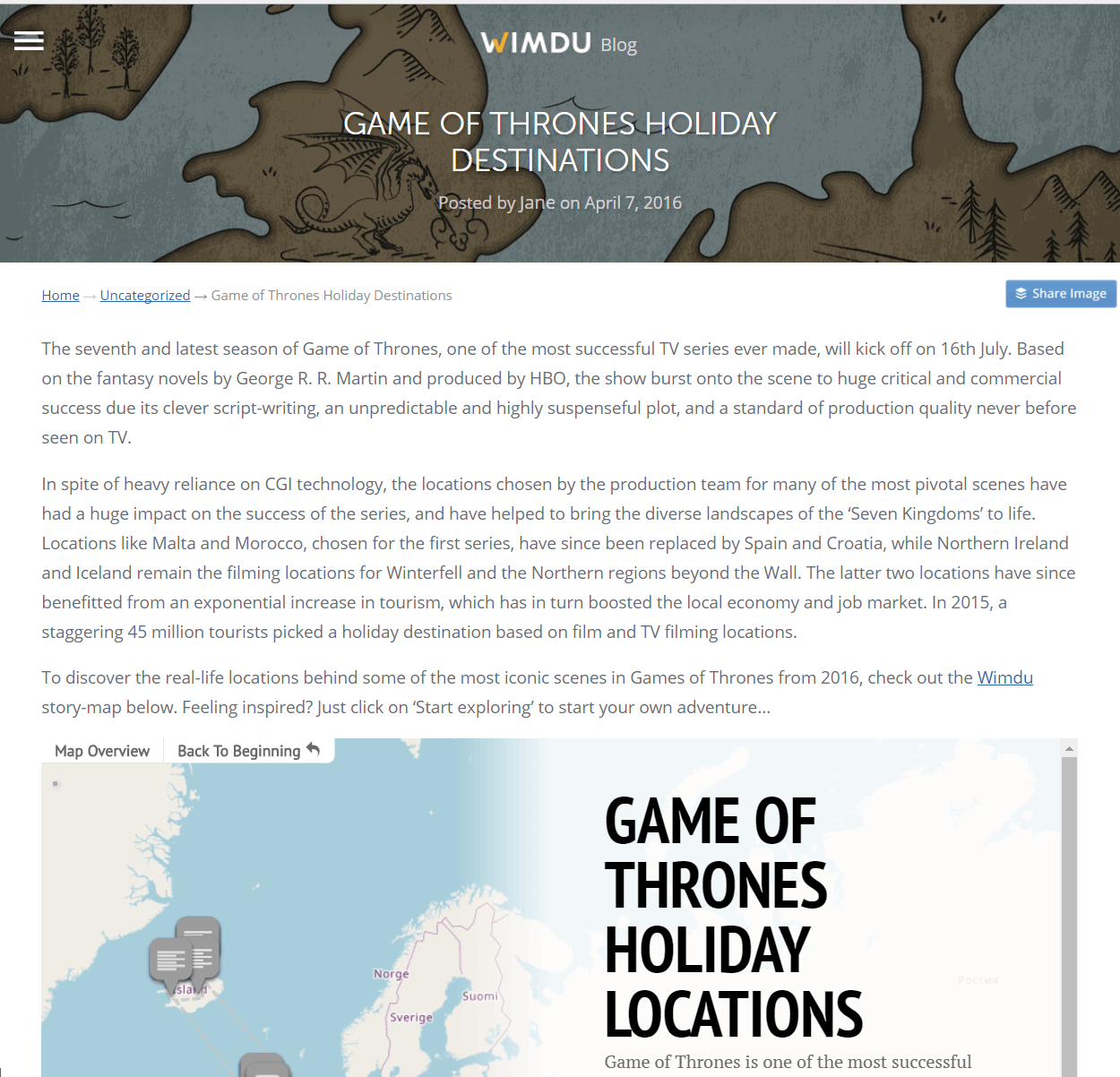 This great example comes from a team who used to be a client and who we provided on-site training so it's great to see them creating such awesome content internally.
I really liked the combination of using StoryMapJS and visual assets to create an in depth resource for fans of Game of Thrones, who would want to visit these locations in real-life.
I reached out to Olga Szoke (Head of SEO) to find out more: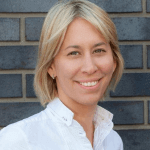 – How did you come up with the idea?
"We wanted to take advantage of the huge interest in Game of Thrones. We knew that the GoT fan base was big so we had an audience to reach out to. The season was about to start so we also knew that it will be a hot the topic and publisher could potentially pick up on it.
Since GoT is not related to our core product (apartments/holiday rentals) or directly related to travel, we tried to give it an original travel-related angle. The idea of generating maps (with this open source map tool) seemed to be smart and cost effective because there was a lot of talk on media about the places where the episodes were shot.
We have additionally created images with facts and stats (using both external and internal data) with the aim to show how filming GoT in those destinations has impacted the local tourism. This sort of information is always attractive to journalists.
We also applied what we had have learnt from NeoMam over the years 😛 This idea fitted 4 of the 6 STEPPs from the book Contagious by Jonah Berger."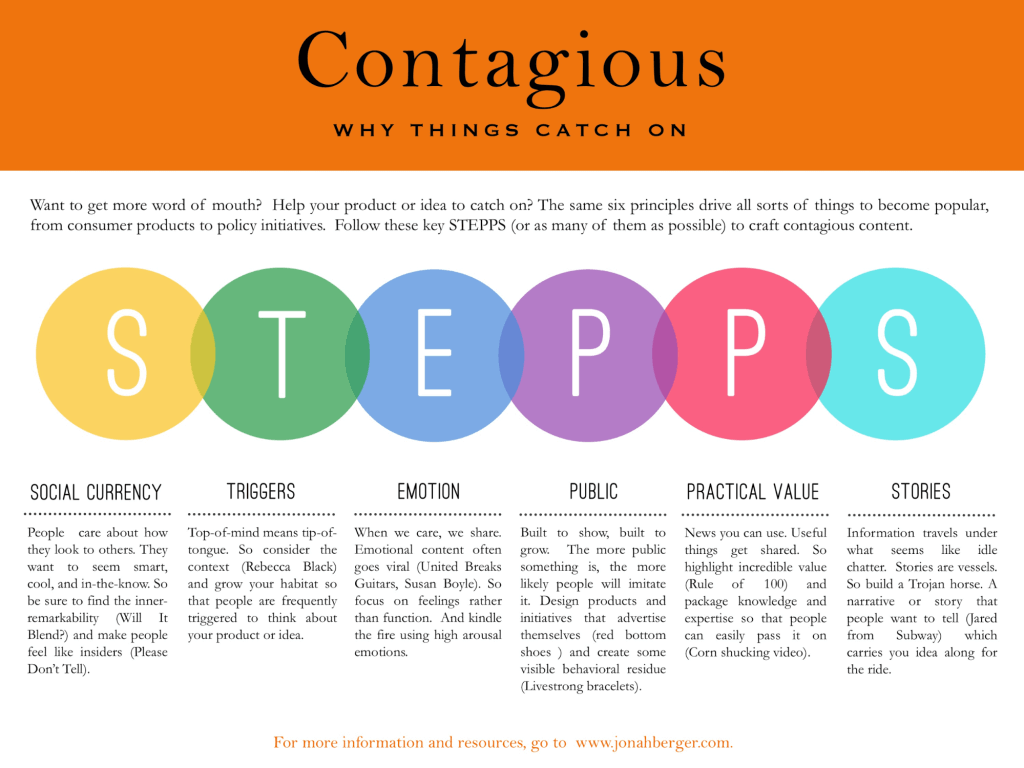 – What challenges did you face during the production of this piece of content?
"Not every scenario/place could be equally adapted to serve our business purposes. In addition to that, some of the locations proved to be more challenging when it came to research.
From each location we also linked to our landing pages where a user could book an apartment in that actual destination in case he/she wanted to visit but we found that there were locations where Wimdu just simply did not have any properties to offer. In those cases instead of linking to the actual city page with no offers, we linked to the one which was the next closest city.
It was very time-consuming to research for the project and to collect all data, stats, information that we needed but considering the nature of the project we could make it a global one and use the content for different markets."
– If you could go back in time and do something different, what would it be?
"Perhaps we could have invested more time in writing the blog content itself and explain better the stats and facts on the small infographics. Overall we were quite satisfied with the results we have achieved."
– What was the main goal of the project? And how did you measure the results?
"Our main goal was attracting links and brand awareness through social media. We measured the results in terms of social shares and number of unique domain backlinks."
– What content types are you keen to experiment with in 2018?
"We would like to do more interactive pieces, some engaging content our audience can play around with as well as data driven content. In certain markets (e.g: Italy) we find that it is easier to get placements with data driven content."
What These Campaigns Taught Me About The State Of In-House Content Marketing

First of all, I want to thank Olga, Mark, Stefan, Freddie and Jos for being so generous with their time – especially at this time of year when I'm sure things are just starting to get busy.
What I found interesting after discussing with all of them is that the challenges faced by in-house teams seem to be the same as those faced by agencies.
It was also great to see how much thought and effort went into the ideas, and how different each approach to ideation was:
Travelopia held internal brainstorming sessions with the team
Admiral utilised their unique data as a starting point for an interactive
Amara and Wimdu tapped into a major trend and connected it to their industry
Best Western decided to kick-start their brainstorming with keyword research
I have always said that without a good idea, you have no chance of getting links, regardless of how great your design/content/development is. It's the reason why I am currently working on a course that is just about ideas – be sure to jump on the waiting list if you want me to let you know when it goes live.
I'm really excited to see what 2018 brings and can't wait to cover more content produced by in-house teams in future blog post. Feel free to reach out to me if you have done something awesome as I would love to see it.
Hope you find the post useful and good luck to you in 2018!