With the year coming to an end, it's difficult not to look back and reflect on everything we went through in 2015. It would be great to say that we made zero mistakes and nailed every single aspect of what we do, but wouldn't that be boring and incredibly naive?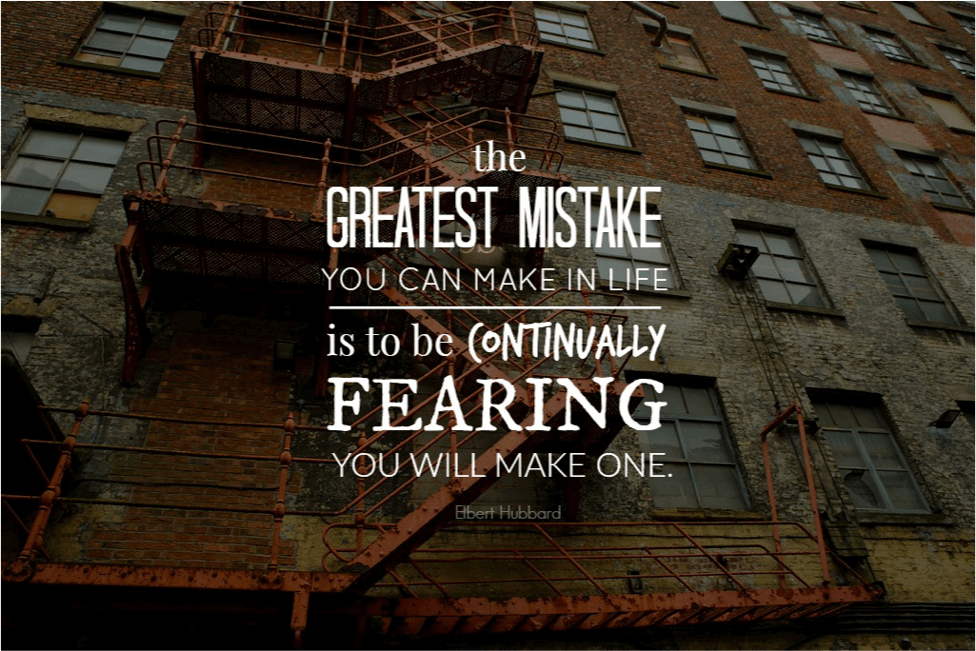 Steve Jobs once said that sometimes when you innovate, you make mistakes and it's best to admit them quickly, so that you can get on with improving your other innovations. I personally agree with this quote and believe that the most valuable experience comes from mistakes we've made and learned from.
In this post, we will reflect on how we changed and grew both as an agency and as individuals thanks to the mistakes we made in 2015.



The Mistake
A few months ago, I was working on a project that proved challenging. After hours of researching and brainstorming ideas for a piece of content, it was very clear that I was just stuck. All the potential topics I came up with were clearly off base and not a good match for our client. I got my ideas shut down one after another and my motivation went down – after a while I realised that I couldn't even figure out the target audience to begin with!
The Outcome
That's when I decided to put my ego aside and asked my team members for help. After a team brainstorming session, we had in our hands a plethora of potential topics, relevant pain points and areas of interest that helped me with the ideation process.
I didn't expect for my "ideation block" to be solved so easily, and the effectiveness of my collaboration with the wider team motivated me to research on the ideas extensively. When I was finished with my third round of brainstorming, I was excited about how good the content ideas were.
The Lesson
People generally think that they are the best at what they do and that could result in not considering the importance of others' opinions. The lesson I learned from this is that sometimes asking for help is not a sign of weakness, it's in fact a sign of strength.

We started 2015 with clearly divided departments who responded to different managers, had their own quality/efficiency KPIs and allowed little to no space for communication between stages of content production.
The Mistake
I really wanted to bring the entire team together to share everyone's knowledge and expertise. My oh-so-wonderful idea was to organise monthly meetings where we would review the top 5 and bottom 5 projects of the past month. I thought that those meetings would create the perfect opportunity for us to discuss the best and worst performing campaigns, and give everyone involved the tools we needed to continue to improve our work.
The Outcome
It was a ginormous mistake on my part because the team was not ready for giving/receiving feedback from both peers and managers in such an open way. We were all working in silos and these reviews became a space where everyone allocated blame over past projects – very far removed from the much needed collective intelligence and constructive analysis for future projects!
After a horrible meeting in July, we decided to change the way we worked and generate more spaces for 'impromptu feedback' between team members.
The Lesson
We removed the invisible walls between departments by creating project teams, where everyone has the opportunity to give feedback every step of the way across the different stages of content production.
It's been almost 5 months since we moved onto this new model and the results have been staggering:
we reduced production time by 40%,

we reduced costs by 20%,

we built more relationships with tier-1 media publishers in this period than in the entire year…
… and more importantly, we created a collaborative space where everyone learns from each other, whilst building trust and rapport on a daily basis.
We now make use of our collective intelligence for every single project and it only took one mistake to get there. The lesson I learned from this journey is that without communication there's no trust and without trust there's no collaboration.

The Mistake
A mistake I made in 2015 negatively affected one of our campaigns, costing us features on blogs, online magazines and newspapers. It's a mistake I often look back on to ensure it doesn't repeat itself. Although we still achieved good coverage for the infographic on sites of the likes of Entrepreneur, when preparing for the campaign I didn't look into any potential hooks we should've used.
The Outcome
The piece of content we were working on was targeted to small business owners in the UK and when preparing for the campaign I missed out on https://www.smallbusinesssaturdayuk.com/ – an event that could have resulted in wider exposure for our content.
The Lesson
When prospecting and preparing for content promotion campaigns, there are different aspects to take into consideration to guarantee we have a winning strategy in our hands. A good way of expanding and strengthening the approach is to examine the content carefully, identifying any hooks we can incorporate into our pitch to such as: relevant events, awareness days, etc. It sounds like the logical thing to do and it is part of every single preparation round, but sometimes even tasks we know are important are easily missed.
The good news is that this mistake made me change the process of my work, and now I can happily say that I dedicate additional time to identifying potential hooks before going further. I learned that it's dangerously easy to get comfortable enough with a task that you will end up overlooking important aspects of it, so I've got to be aware of running in automatic.

When I received the email about this round-up post, the number one mistake that came to mind wasn't related to my day-to-day work but to a bad decision I made in my personal life that taught me an important lesson.
The Mistake
At the beginning of 2015 I decided to renovate my bathroom and whilst choosing new fittings, accessories and furniture I fell in love with a beautiful stone bath. A little detail I shouldn't forget to mention is the fact that my bathroom is in the first floor, which means that this dreamed bath will need to be carried upstairs.
The Outcome
I didn't pay attention to the two delivery men telling me that there was no way the bath would fit up the stairs; I was confident it would. A few people from the NeoMam team came over to my house to help me get the bath to the first floor, plus I bought ropes, pulleys and various gadgets that promised to make the job easier. We were a team of 5 people so there was no way we wouldn't achieve the task at hand.
After 2 hours of pushing and pulling this bath around, it moved a couple of feet forward just to return to its original position by the front door a few minutes later. We kept trying and trying and trying but the bath was refusing to fit up the stairs. We ended up pushing it into the garden, where it stayed for a few days waiting for the two delivery men to pick it up and take it back to the store.
The Lesson
The lesson I learned from this is that you should listen to those who may have more expertise than yourself. It doesn't matter how much you want something to be a certain way, sometimes you've got to take the advice of the people who have more experience than you do.

The Mistake
We started 2015 with very little visibility of our goals and core numbers. If you were to ask anyone in the business, no one could tell you how many deadlines we had met on a given week, what was the average number of projects completed per person per month, even how much profit or loss we made per project. Every month, team leaders were worrying that we didn't have enough capacity, finance managers were concerned we weren't making enough money, clients were complaining that we weren't completing projects quickly enough.
The problem was, no one could back up their concerns nor suggest productive improvements as there was no data to work from. We made a lot of mistakes because of this: We hired on a whim, priced our service incorrectly and overspent money/time on each project we worked on.
The Outcome
To address the issues, we decided to identify core KPIs for our business. We started by asking for each team to decide on what they thought should be the key performance indicators for their department. This was a nice exercise to get everyone thinking about what we can control in our business, and how we can measure success. We decided on these as KPIs and reported to each other once a week.
The first attempt at defining NeoMam's KPIs wasn't a huge success, as we chose the wrong measurables, making them over-complicated and irrelevant. What is more, we committed to these KPIs and forgot that it was imperative to keep updating them and adjusting them over time based on what was important as a business to measure.
The Lesson
That's when we came across a great way to think about KPIs in the EOS system: Imagine being sat on a desert island without a phone, the internet, or any other form of communication. The only thing you can have to check the success of your business is a piece of paper with 5-10 numbers on them. What numbers would you choose?
Using this metaphor as a starting point, we identified those numbers that matter. Since working on the critical numbers of our agency, we can have improved across all areas of a business. For example, our deadline met rate has increased by 20% over the last few months, hitting a consistent 100% success rate over the past four weeks.
These measurables and goals have impacted on the overall success of the business, and we continue to review and refine these goals to grow our business and our clients. The lessons I learned were to embrace data and to remain flexible when it comes to setting goals, as businesses change, grow and evolve over time.

Process management is the implementation of skills, tools, and techniques in order to make an organisation's workflow more efficient and more capable of adapting to an ever-changing environment. With this thing in mind we started the year 2015 implementing a bunch of loosely tested processes.
The Mistake
Initially, we followed a simple set of rules:
Identify error in the process

Find a better alternative

Implement/replace it
The Outcome
Not as effective as it seems, this led to various problems such as misunderstandings between tasks, miscommunication between team members, project delays, etc.
What I learned from the above is that implementation is the most crucial part of process management, as it not only affects the way team members work but also their production capabilities. Our goal now is to improve the business processes with the aim of reducing human error to the absolute minimum.
The Lesson
Revised set of rules for the New Year:
Attentive examination of the entire process

Identification of the problem area

Rigorous research for finding a suitable solution

Creating a test process and trialling

Monitoring the performance to assess its effectiveness and making changes accordingly

Educating the managers so that they can follow the process with ease

It's a natural tendency when you're put in charge of a team to want to oversee every single task that comes under the remit – the rationale for this is twofold: on the one hand you want to ensure that each piece of work meets your own standards for quality, and that your team are consistently performing at that standard. On the other, you can suddenly feel burdened by the knowledge that you are ultimately responsible for seeing the projects through from start to finish, and the minutiae involved within that process. The latter, if left unchecked, can end up causing a great deal of stress.
The Mistake
When I was promoted to lead content strategist of the agency I made the mistake not to delegate important tasks to the team, thus not to giving them the opportunity to see things through. I was taking what I considered to be difficult jobs off their plate entirely – adding to my own work load in the process.
The Outcome
The net result of this was that, while the work got done, it ended up producing no small amount of grey hairs along the way as I filled my own schedule with tasks that would have been better off delegated to others. Hindsight is always a blessing, and I can see that this proactive approach to getting things done was equally a refusal to allow others to be involved, denying them the chance to grow as well. The stalemate that resulted, where the copywriters remained within comfort zones while I had to adapt my own working styles to fit more work in, was regrettable. But because it was manageable, or at least got things done, it hung around much longer than it should have done.
The Lesson
The sign of a good leader – i.e. someone who is able to motivate their team to perform the impossible, rather than simply managing them – is their ability to effectively delegate responsibility. People need to be given the chance to succeed and surpass expectations, and if not, to learn from their failures to improve.
I learned a very valuable lesson along the way and now I know that failure is arguably more important than successes to long-term, consistent achievements; by stubborning refusing to fail, you will only succeed in holding back your own development.

2015 for me was a year of many mistakes, so I will try to keep to one that is not too embarrassing but could be useful for others in a similar position.
The Mistake
At the beginning of 2015 NeoMam started to get the attention of some big name brands and we got asked to do a number of projects that were a little outside of our core offering. Being someone who has worked in the agency world for a number of years I couldn't help but get excited that our little agency was getting approached by major global brands.
The Outcome
Rather than stick to our core products, I decided to try and make it work by customising our offering. The end result was that the projects took a lot more time and whilst the work was still good, it was not world class. We also struggled to make a profit with any of these big name projects but more importantly wasted a lot of time that we could have allocated to the right type of projects that would support our long term aims.
The Lesson
By the end of the year I had learnt from these mistakes the hard way and we are now very selective on the type of projects we take on (content ideation/production/promotion supporting medium-large in-house SEO teams if you're interested) and will not hesitate to say 'no' regardless of the size of the brand approaching us when I know that it doesn't match our core offering.
And one lesson to rule them all
Making mistakes is at the core of growing and getting better at what you do, we know that now.
This was a difficult yet rewarding year for all of us. We learned many lessons but the most important one is that balancing our individuality with group identity is a challenging art form we shouldn't ignore.
The Big Hairy Audacious Lesson
It's incredibly hard to be able to be yourself, a person with your own goals and values, whilst belonging to a team, full of others from different backgrounds and with diverse beliefs. Achieving the right balance requires a lot of hard work from everyone involved. We need to be honest with each other, remain open to sharing our mistakes and avoid hiding our problems as we'll always find better solutions together.
We would love to say that "we finally got it" but that would be the biggest mistake of them all. Everything and everyone changes all the time and remaining flexible is key to succeeding both as a person and as a business. We need to remind ourselves every single day that we belong to a team of people (who don't have mind-reading powers) and that effective, honest communication is imperative to achieving our business goals.
Our wish for the New Year
"I hope that in this year to come, you make mistakes.

Because if you are making mistakes, then you are making new things, trying new things, learning, living, pushing yourself, changing yourself, changing your world. You're doing things you've never done before, and more importantly, you're Doing Something.

So that's my wish for you, and all of us, and my wish for myself. Make New Mistakes. Make glorious, amazing mistakes. Make mistakes nobody's ever made before. Don't freeze, don't stop, don't worry that it isn't good enough, or it isn't perfect, whatever it is: art, or love, or work or family or life.

Whatever it is you're scared of doing, Do it.

Make your mistakes, next year and forever."

— Neil Gaiman
Happy New Year on behalf of the NeoMam team!
Photos: Henry Hemming / Thomas Leuthard / Alexandre Dulaunoy / Nicolas Alejandro / Shutterstock 95386021 / Shutterstock 284660570 / Shutterstock 326298698 / Shutterstock 251223184 / Mike Kniec